zona pellucida
Also found in:
Dictionary
,
Thesaurus
,
Acronyms
,
Encyclopedia
,
Wikipedia
.
zona
[

zo´nah

] (L.)

zona ophthal´mica herpetic infection of the cornea.

zona pellu´cida

1.

the transparent, noncellular, secreted layer surrounding an ovum.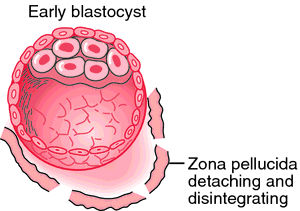 2. area pellucida.
zona radia´ta
a
zona pellucida
exhibiting conspicuous radial striations.
Miller-Keane Encyclopedia and Dictionary of Medicine, Nursing, and Allied Health, Seventh Edition. © 2003 by Saunders, an imprint of Elsevier, Inc. All rights reserved.
zo·na pel·lu·ci·da
an extracellular coat, rich in glycoprotein, surrounding the oocyte; it contains microvilli of the oocyte and cellular processes of follicular cells and appears homogeneous and translucent under the light microscope.
Farlex Partner Medical Dictionary © Farlex 2012
zona pellucida
(zō′nə pə-lo͞o′sĭ-də, pĕl-yo͞o′-)
n.
A thick transparent extracellular coat that surrounds the mammalian ovum and is composed of glycoproteins. Spermatozoa bind to the zona pellucida during fertilization.
The American Heritage® Medical Dictionary Copyright © 2007, 2004 by Houghton Mifflin Company. Published by Houghton Mifflin Company. All rights reserved.
zona pellucida
The glycoprotein-rich membrane surrounding the plasma membrane of an oocyte (egg), which binds spermatozoa and is required to initiate the acrosome reaction.

Segen's Medical Dictionary. © 2012 Farlex, Inc. All rights reserved.
zo·na pel·lu·ci·da
(

zō'nă pel-lū'sid-ă

)

An extracellular coat surrounding the oocyte; it consists of a layer of microvilli of the oocyte, cellular processes of follicular cells, and an intervening substance rich in glycoprotein; it appears homogeneous and translucent under the light microscope.

Synonym(s):

pellucid zone

.

Medical Dictionary for the Health Professions and Nursing © Farlex 2012
zona pellucida
a mucoprotein membrane that surrounds the egg of mammals. It is secreted by the ovarian follicle cells.

Collins Dictionary of Biology, 3rd ed. © W. G. Hale, V. A. Saunders, J. P. Margham 2005