Z-plasty
(redirected from zigzag plasty)
Z-plasty
[

ze´plas-te

]

repair of a skin defect by the transposition of two triangular flaps of adjacent skin, for relaxation of scar contractures. Called also

zigzagplasty

.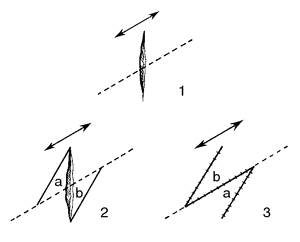 Miller-Keane Encyclopedia and Dictionary of Medicine, Nursing, and Allied Health, Seventh Edition. © 2003 by Saunders, an imprint of Elsevier, Inc. All rights reserved.
Z-plas·ty
(

plas'tē

),

Technique to increase soft tissue length along a selected axis; change the direction of a malaligned scar 90 degrees; obliterate or create a web or cleft (as in syndactyly or thumb-web contractures); or alter surface contour. The central limb is located along the malaligned scar or the site of greatest tension; opposing flaps are constructed at each end (or at intervals) along the central limb at angles of 30-90 degrees depending on clinical circumstances. The flaps are elevated and transferred, reorienting the central limb by 90 degrees.

Farlex Partner Medical Dictionary © Farlex 2012
Z-plasty
(zē′plăs′tē)
n.
A surgical procedure to elongate a contracted scar or to rotate tension 90° in which the middle line of the Z-shaped incision is made along the line of greatest tension or contraction, and triangular flaps are raised on opposite sides of the two ends and then transposed.
The American Heritage® Medical Dictionary Copyright © 2007, 2004 by Houghton Mifflin Company. Published by Houghton Mifflin Company. All rights reserved.
Z-plasty
Surgery A surgical incision that lengthens a zone of skin or a muscle, 'breaking up' a linear scar or repositioning an incision to a line of least tension. See Y plasty.

McGraw-Hill Concise Dictionary of Modern Medicine. © 2002 by The McGraw-Hill Companies, Inc.
Z-plas·ty
(

plas'tē

)

Surgery to elongate a contracted scar or to rotate tension 90 degrees; the middle line of a Z-shaped incision is made along the line of greatest tension or contraction, and triangular flaps are raised on opposite sides of the two ends and transposed.

Synonym(s):

zigzag plasty

.

Medical Dictionary for the Health Professions and Nursing © Farlex 2012
Z-plasty
(z-plas'te)

The use of a Z-shaped incision in plastic surgery to relieve tension in scar tissue. The area under tension is lengthened at the expense of the surrounding elastic tissue.

See: illustration; tissue expansion, soft; W-plastyillustration

Medical Dictionary, © 2009 Farlex and Partners
Z-plasty
A plastic surgical technique for relieving skin tension or releasing scar contracture. Adjacent, V-shaped flaps, pointing in opposite directions are cut, undermined, freed and their points transposed.

Collins Dictionary of Medicine © Robert M. Youngson 2004, 2005
Z-plas·ty
(

plas'tē

)

Surgery to elongate a contracted scar or to rotate tension 90 degrees; the middle line of a Z-shaped incision is made along the line of greatest tension or contraction, and triangular flaps are raised on opposite sides of the two ends and transposed.

Synonym(s):

zigzag plasty

.

Medical Dictionary for the Dental Professions © Farlex 2012