x-ray film
Also found in:
Dictionary
,
Thesaurus
,
Encyclopedia
,
Wikipedia
.
film
[

film

]

1. a thin layer or coating.

2. a thin sheet of material (e.g., gelatin, cellulose acetate) specially treated for use in photography or radiography; used also to designate the sheet after exposure to the energy to which it is sensitive.

bite-wing film

an x-ray film with a protruding tab to be held between the upper and lower teeth, used for a

bite-wing

radiograph

of oral structures.

gelatin film, absorbable a sterile, nonantigenic, absorbable, water-insoluble coating used as an aid in surgical closure and repair of defects in the dura mater and pleura and as a local hemostatic.

spot film

a radiograph of a small anatomic area obtained either by rapid exposure during fluoroscopy to provide a permanent record of a transiently observed abnormality, or by limitation of radiation passing through the area to improve definition and detail of the image produced. See also

spot-film

radiography

.

x-ray film

film sensitized to x-rays, either before or after exposure.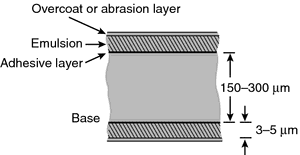 Miller-Keane Encyclopedia and Dictionary of Medicine, Nursing, and Allied Health, Seventh Edition. © 2003 by Saunders, an imprint of Elsevier, Inc. All rights reserved.
x-ray film
A special photographic film with a sensitive emulsion layer that blackens in response to the light from intensifying screens. The emulsion has silver halide crystals immersed in gelatin. Single-emulsion film has the emulsion on one side of the cellulose base. It is used for digital, mammographic, and extremity imaging, in which high detail is necessary. Duplitized film has the emulsion on both sides of the cellulose base. It is used for general-purpose radiological studies.
Medical Dictionary, © 2009 Farlex and Partners