uvula vermis
Also found in:
Dictionary
,
Thesaurus
,
Encyclopedia
.
uvula
[

u´vu-lah

]

1. any hanging, fleshy mass.

uvula of bladder

a rounded elevation at the

bladder

neck

in males, formed by convergence of muscle fibers terminating in the

urethra

. Called also

uvula vesicae

.

bifid uvula

bifurcation of the uvula, an incomplete form of

cleft palate

.

uvula palati´na

(

palatine uvula

) the small, fleshy mass hanging from the soft palate above the root of the tongue.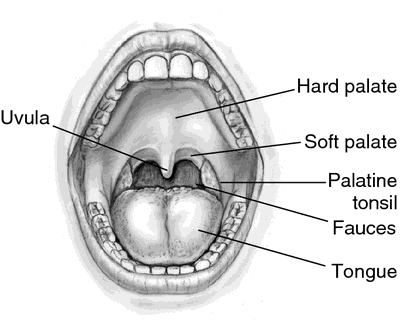 Miller-Keane Encyclopedia and Dictionary of Medicine, Nursing, and Allied Health, Seventh Edition. © 2003 by Saunders, an imprint of Elsevier, Inc. All rights reserved.
uvula [TA] of cerebellum
a triangular elevation on the vermis of the cerebellum, lying between the two tonsils anterior to the pyramis.
Farlex Partner Medical Dictionary © Farlex 2012
u·vu·la of cer·e·bel·lum
(

ū'vyū-lă ser'ĕ-bel'ŭm

)

A triangular elevation on the vermis of the cerebellum, lying between the two tonsils anterior to the pyramis.

Synonym(s):

uvula cerebelli

,

uvula vermis

.

Medical Dictionary for the Health Professions and Nursing © Farlex 2012