uterus duplex
Also found in:
Dictionary
,
Thesaurus
,
Encyclopedia
.
uterus
[

u´ter-us

] (pl. u´teri) (L.)

the hollow muscular organ in female mammals in which the

zygote

(fertilized

ovum

) normally becomes embedded and in which the developing

embryo

and

fetus

is nourished; in humans it is normally about the size and shape of a pear. Called also

metra

and

womb

.

The upper part of the uterus, or

fundus uteri

, is broad and flattened; the middle part (body), or

corpus uteri

, is large and open; and the lower part, or

cervix uteri

, is narrow and tubular and opens downward into the

vagina

. Two

fallopian tubes

enter the uterus at the upper end, one on each side. The walls of the uterus are composed of muscle, and its lining is mucous membrane. The muscular substance of the uterus is called the

myometrium

, and the inner lining is called the

endometrium

. Between puberty and menopause, the lining goes through a monthly cycle of growth and discharge, known as the

menstrual cycle

.

menstruation

is the time in the cycle when the tissue prepared by the uterus for a possible embryo or fertilized egg is unused and passes out through the vagina.

The menstrual cycle is interrupted by pregnancy when a mature ovum is fertilized by a spermatozoon. Fertilization usually takes place in the fallopian tube; the fertilized ovum continues moving along the tube and comes to rest in the uterus, where it implants in the endometrium. The endometrium then serves to anchor the placenta, which filters nutrients from the mother's blood into the blood of the growing fetus. (See also

reproduction

and female

reproductive organs

.)

Disorders of the Uterus

. The main organs of the female reproductive system, the uterus, fallopian tubes, and ovaries, are connected to each other by ligaments that normally hold each in its proper place. Occasionally childbirth causes displacement of the uterus. The ligaments may stretch and weaken enough to permit the uterus to bulge into the vagina. This is called a prolapsed uterus. The uterus is also subject to cancer as well as to benign growths in the uterine wall, called

leiomyomas

.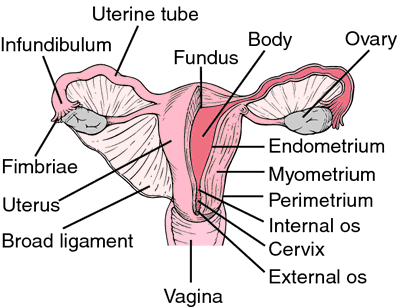 uterus didel´phys
the existence of two distinct uteri in the same individual; called also
didelphia
and
uterus duplex
.
Miller-Keane Encyclopedia and Dictionary of Medicine, Nursing, and Allied Health, Seventh Edition. © 2003 by Saunders, an imprint of Elsevier, Inc. All rights reserved.
du·plex u·ter·us
any uterus with double lumen (u. didelphys, uterus bicornis bicollis, or septate uterus).
Farlex Partner Medical Dictionary © Farlex 2012
uterus duplex
An older term for a uterus with any abnormality in the fusion of the müllerian ducts, resulting in a doubling of certain structures, including uterine didelphys (Buttram and Gibbons (B&G) Class III), bicornuate uterus (B&G IV) and septate uterus (B&G V).

Segen's Medical Dictionary. © 2012 Farlex, Inc. All rights reserved.
uterus duplex
A double uterus resulting from failure of union of müllerian ducts.
Medical Dictionary, © 2009 Farlex and Partners