tympanic
Also found in:
Dictionary
,
Thesaurus
,
Encyclopedia
,
Wikipedia
.
tympanic
[

tim-pan´ik

]

tympanic membrane

a thin, semitransparent membrane, nearly oval in shape, that stretches across the ear canal and separates the

tympanum

(middle ear) from the external

acoustic

meatus

(outer ear); called also

eardrum

. It is composed of fibrous tissue, covered with skin on the outside and mucous membrane on the inside. It is constructed so that it can vibrate freely with audible sound waves that travel inward from outside. The handle of the

malleus

of the middle ear is attached to the center of the membrane and receives the vibrations it collects, transmitting them to the other ossicles of the middle ear (the

incus

and

stapes

), which in turn transmit the vibrations to the fluid of the inner ear.

Perforation of the tympanic membrane can cause loss of hearing, the extent depending on the size and location of the perforation. Since vibrations can still be transmitted to the inner ear by way of the bones of the skull, even nearly total destruction of the tympanic membrane does not produce total deafness. Surgical incision of the membrane (

myringotomy

) or insertion of ventilating tubes may be done to relieve pressure and provide for drainage in an infection of the middle ear. See also

otitis media

.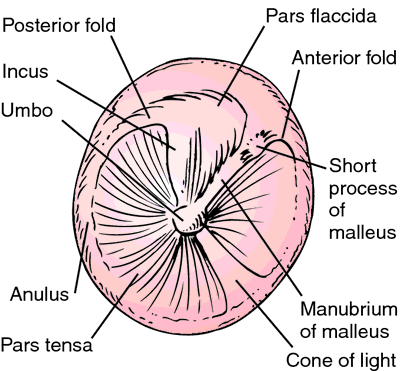 Miller-Keane Encyclopedia and Dictionary of Medicine, Nursing, and Allied Health, Seventh Edition. © 2003 by Saunders, an imprint of Elsevier, Inc. All rights reserved.
tym·pan·ic
(

tim-pan'ik

),

1.

Relating to the tympanic cavity or membrane. Synonym(s):

tympanal

(1)

2. Resonant.

Farlex Partner Medical Dictionary © Farlex 2012
tympanic
(tĭm-păn′ĭk)
adj.
1. Relating to or resembling a drum.
2.
also
tympanal
(tĭm′pə-nəl)
Anatomy
Of or relating to the middle ear or eardrum.
The American Heritage® Medical Dictionary Copyright © 2007, 2004 by Houghton Mifflin Company. Published by Houghton Mifflin Company. All rights reserved.
tym·pan·ic
(

tim-pan'ik

)

1.

Relating to the tympanic cavity or membrane.

Synonym(s):

tympanal

(1) .

2. Resonant.

Medical Dictionary for the Health Professions and Nursing © Farlex 2012
tym·pan·ic
(

tim-pan'ik

)

1. Relating to the tympanic cavity or membrane.

2. Resonant.

Medical Dictionary for the Dental Professions © Farlex 2012