turgor
Also found in:
Dictionary
,
Thesaurus
,
Encyclopedia
,
Wikipedia
.
turgor
[

ter´ger

]

1. swelling or other distention.

2. a condition of normal tension in a cell or group of cells; fullness. adj., adj tur´gid.

skin turgor

a reflection of the skin's elasticity, measured by monitoring the time it takes for the skin of the forearm to return to position after it is lightly pinched between the examiner's thumb and forefinger. Normal turgor is a return to normal contour within three seconds; if the skin remains elevated (tented) more than three seconds, turgor is decreased.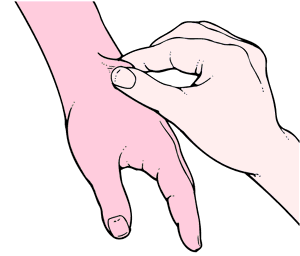 Miller-Keane Encyclopedia and Dictionary of Medicine, Nursing, and Allied Health, Seventh Edition. © 2003 by Saunders, an imprint of Elsevier, Inc. All rights reserved.
tur·gor
(

tŭr'gōr

),

Fullness.

[L., fr. turgeo, to swell]

Farlex Partner Medical Dictionary © Farlex 2012
turgor
(tûr′gər, -gôr′)
n.
The normal fullness or tension produced by the fluid content of living cells or of blood vessels and capillaries:
leaves that have lost turgor.
The American Heritage® Medical Dictionary Copyright © 2007, 2004 by Houghton Mifflin Company. Published by Houghton Mifflin Company. All rights reserved.
turgor
Physical examination Swelling of skin and subcutaneous tissue

McGraw-Hill Concise Dictionary of Modern Medicine. © 2002 by The McGraw-Hill Companies, Inc.
tur·gor
(

tŭr'gŏr

)

Fullness.

[L., fr. turgeo, to swell]

Medical Dictionary for the Health Professions and Nursing © Farlex 2012
turgor
the cell state when it has taken in a maximum amount of water, causing distension of the protoplast. The term is used mainly in connection with plant cells, which have a maximum size when turgid that is governed by how much the cellulose cell wall will stretch. See WALL PRESSURE, PRESSURE POTENTIAL, TRANSPIRATION.

Collins Dictionary of Biology, 3rd ed. © W. G. Hale, V. A. Saunders, J. P. Margham 2005
tur·gor
(

tŭr'gŏr

)

Fullness.

[L., fr. turgeo, to swell]

Medical Dictionary for the Dental Professions © Farlex 2012