tubal embryo transfer
Also found in:
Dictionary
,
Thesaurus
,
Legal
,
Financial
,
Acronyms
,
Encyclopedia
.
transfer
[

trans´fer

]

1. the taking or moving of something from one place to another.

2. the moving of a patient from one surface to another. Patients can be taught to transfer safely either independently or with minimal assistance if they can balance in a sitting position.

gamete intrafallopian transfer

(GIFT) a type of

assisted reproductive

technology

consisting of retrieval of

oocytes

from the ovary, followed by placement of oocytes and

sperm

in the

fallopian tubes

by

laparoscopy

.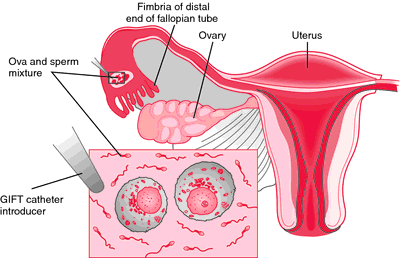 passive transfer the conferring of immunity to a nonimmune host by injection of antibody or lymphocytes from an immune or sensitized donor.
sliding board transfer a method of transferring a patient: a smooth tapered board is placed under the patient and stabilized on the surface to which movement will take place so that the patient can glide across.
tendon transfer surgical relocation of the insertion of a tendon of a normal muscle to another site to take over the function of another muscle inactivated by trauma or disease.
tubal embryo transfer
(TET)
Miller-Keane Encyclopedia and Dictionary of Medicine, Nursing, and Allied Health, Seventh Edition. © 2003 by Saunders, an imprint of Elsevier, Inc. All rights reserved.