trigeminal
(redirected from trigeminal nerve paralysis)
Also found in:
Dictionary
,
Thesaurus
.
trigeminal
[

tri-jem´ĭ-nal

]

triple.

trigeminal nerve

the fifth

cranial nerve

; it arises in the pons, is composed of sensory and motor fibers, and has three divisions:

ophthalmic, maxillary,

and

mandibular.

(See anatomic Table of Nerves in the Appendices.) The ophthalmic division supplies sensory fibers to the skin of the upper eyelid, side of the nose, forehead, and anterior half of the scalp. The maxillary division carries sensory impulses from the mucous membranes of the nose, the skin of the cheek and side of the forehead, and the upper lip and upper teeth. The mandibular division carries sensory impulses from the side of the head, chin, mucous membrane of the mouth, lower teeth, and anterior two-thirds of the tongue. (This nerve is sometimes called the great sensory nerve of the head.) The motor fibers are part of the mandibular branch and supply several of the muscles of chewing. Neuralgia of this nerve is the condition known as

tic douloureux

.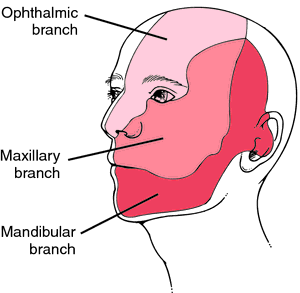 Miller-Keane Encyclopedia and Dictionary of Medicine, Nursing, and Allied Health, Seventh Edition. © 2003 by Saunders, an imprint of Elsevier, Inc. All rights reserved.
tri·gem·i·nal
(

trī-jem'i-năl

),

Relating to the fifth cranial (trigeminus) nerve.

[L. trigeminus, threefold]

Farlex Partner Medical Dictionary © Farlex 2012
trigeminal
(trī-jĕm′ə-nəl)
adj.
Of or relating to the trigeminal nerves; trifacial.
The American Heritage® Medical Dictionary Copyright © 2007, 2004 by Houghton Mifflin Company. Published by Houghton Mifflin Company. All rights reserved.