transverse plane
Also found in:
Dictionary
,
Thesaurus
,
Encyclopedia
,
Wikipedia
.
plane
[

plān

]

1. a flat surface determined by the position of three points in space.

2. an imaginary flat surface that divides the body into sections (see accompanying figure). adj., adj pla´nar.

3. a specified level, as the plane of anesthesia.

5.

a superficial incision in the wall of a cavity or between tissue layers, especially in plastic surgery, made so that the precise point of entry into the cavity or between the layers can be determined.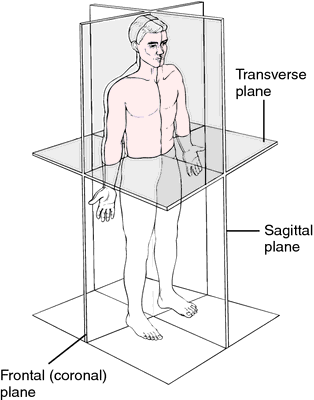 coronal p's frontal p's.
datum plane a given horizontal plane from which craniometric measurements are made.
frontal p's those planes passing longitudinally through the body, an organ, or a part, at right angles to the median plane and dividing into front and back portions. Called also coronal planes.
median plane one passing longitudinally through the body, an organ, or a part from front to back, dividing it into right and left halves.
sagittal p's vertical planes through the body parallel to the median plane or the sagittal suture, dividing the body into unequal left and right portions.
transverse plane
one passing horizontally through the body, an organ, or a part at right angles to the
median
and
frontal planes
, dividing it into upper and lower portions. Called also
horizontal plane
.
vertical plane one perpendicular to a horizontal plane, such as a sagittal plane, median plane, or frontal plane.
Miller-Keane Encyclopedia and Dictionary of Medicine, Nursing, and Allied Health, Seventh Edition. © 2003 by Saunders, an imprint of Elsevier, Inc. All rights reserved.
trans·verse plane
[TA]

a plane across the body at right angles to the coronal and sagittal planes; transverse planes are perpendicular to the long axis of the body or limbs, regardless of the position of the body or limb; in the anatomic position, transverse planes are horizontal planes; otherwise the two terms are not synonymous.

Farlex Partner Medical Dictionary © Farlex 2012
trans·verse plane
(

trans-vĕrs' plān

) [TA]

A plane across the body at right angles to the coronal and sagittal planes.

Medical Dictionary for the Health Professions and Nursing © Farlex 2012
trans·verse plane
(

trans-vĕrs' plān

) [TA]

Plane across body at right angles to coronal and sagittal planes; perpendicular to long axis of body or limbs, regardless of position of body or limb; in the anatomic position, they are horizontal; otherwise two terms not synonymous.

Medical Dictionary for the Dental Professions © Farlex 2012