transposition of great vessels
Also found in:
Dictionary
,
Thesaurus
,
Acronyms
,
Encyclopedia
,
Wikipedia
.
transposition
[

trans″po-zish´un

]

displacement to the opposite side; in genetics, the nonreciprocal insertion of material deleted from one chromosome into another, nonhomologous chromosome.

transposition of great vessels

a

congenital heart defect

in which the position of the chief blood vessels of the heart is reversed, so that the aorta arises from the right ventricle instead of the left and the pulmonary artery emerges from the left ventricle rather than from the right. The result is that oxygen-poor blood returning from the systemic circulation to the right side of the heart gets pumped back into the general circulation instead of being transported to the lungs, and oxygen-rich blood flows aimlessly to and from the lungs. The condition may be corrected by surgery.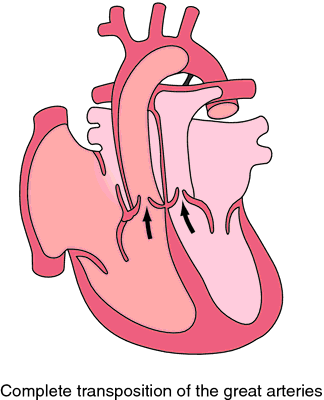 Miller-Keane Encyclopedia and Dictionary of Medicine, Nursing, and Allied Health, Seventh Edition. © 2003 by Saunders, an imprint of Elsevier, Inc. All rights reserved.
transposition of great vessels
Transposition of great arteries Pediatric surgery A congenital cyanotic heart defect in which the position of the aorta and pulmonary artery is transposed; absence of a communication between the pulmonary circulation and the systemic circulation is fatal; usually there is an associated defect that permits mixing of the systemic and pulmonary circulation to provide oxygenated blood to the body Prenatal risk factors Maternal rubella or other viral illnesses during pregnancy, poor prenatal nutrition, maternal alcoholism, maternal age > 40, DM Clinical Early onset of cyanosis, SOB. See Congenital heart disease.

McGraw-Hill Concise Dictionary of Modern Medicine. © 2002 by The McGraw-Hill Companies, Inc.