total hip arthroplasty
Also found in:
Dictionary
,
Thesaurus
,
Financial
,
Acronyms
,
Encyclopedia
.
arthroplasty
[

ahr´thro-plas″te

]

total hip arthroplasty

replacement of the femoral head and acetabulum with prostheses

(femoral

and

acetabular components)

that are anchored to the bone, done to replace a severely damaged hip joint.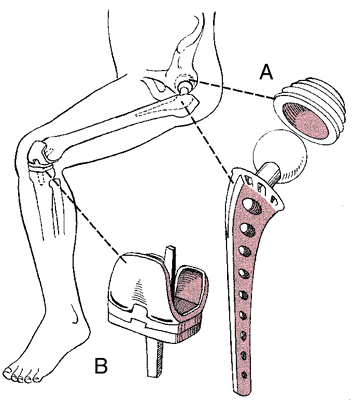 Called also
total hip replacement
.
Patient Care
. The most frequent complications to guard against in these patients are infection and dislocation. An interdisciplinary team helps the patient with recovery and rehabilitation after surgery. Before surgery patients are given instruction to assure that they understand the nature of the surgery, its expected outcome, procedures and exercises that will be done postoperatively, and the correct use of aids to ambulation such as a walker, crutch, or cane.
In addition to routine postoperative care to avoid respiratory and circulatory complications, special care must be taken in positioning the patient. In order to prevent subluxation (dislocation) of the prosthesis, an abduction wedge is secured between the legs (usually in the operating room) and left in place until removed by the surgeon. The head of the patient's bed should not be raised more than 45 degrees.
Patients usually are allowed to stand at the bedside the first postoperative day, supported by a walker and two persons. Specific written permission for weight-bearing on the affected joint should be obtained from the surgeon before this is allowed. Patients often need additional instruction and help in transferring from bed to chair, wheelchair, and commode. Whenever a sitting position is assumed, the chair seat should be raised so that the hips are not flexed beyond a 90-degree angle.
Discharge planning should include instructions that will enable patients to care for themselves safely at home. These include: (1) It is safe to lie on your operated side. (2) For three months you should not cross your legs. (3) Place a pillow between your legs when you roll over on your abdomen or lie on your side in bed. (4) It is safe to bend your hip, but not beyond a right (90-degree) angle. (5) Faithfully continue the exercise program started in the hospital. Patients who need assistance in self-care are referred to a home health agency, social worker, or
community health

nurse
.
total joint arthroplasty
arthroplasty in which both sides of a joint are removed and replaced by artificial implants anchored to the bones; the most common joints treated are the hip, knee, elbow, and shoulder. Called also
total joint replacement
.
total knee arthroplasty
arthroplasty of both sides of the knee joint, with tibial, patellar, and femoral
components
.
Miller-Keane Encyclopedia and Dictionary of Medicine, Nursing, and Allied Health, Seventh Edition. © 2003 by Saunders, an imprint of Elsevier, Inc. All rights reserved.