tine test
Also found in:
Dictionary
,
Thesaurus
,
Legal
,
Financial
,
Encyclopedia
,
Wikipedia
.
tine test
[

tīn

]

an intracutaneous

tuberculin test

using a multiple-puncture, disposable device. It is useful in mass screening of children, but is less accurate than the

Mantoux test

. Any doubtful reaction to the tine test should be rechecked by a

Mantoux test

before a follow-up chest x-ray is recommended. The test is read 48 to 72 hours after administration.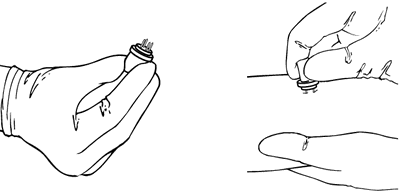 Miller-Keane Encyclopedia and Dictionary of Medicine, Nursing, and Allied Health, Seventh Edition. © 2003 by Saunders, an imprint of Elsevier, Inc. All rights reserved.
tu·ber·cu·lin test
application of the skin test to the diagnosis of infection by Mycobacterium tuberculosis in which tuberculin or its "purified" protein derivative serves as an antigen (allergen); injection of graduated doses of tuberculin or of purified protein derivative into the skin, most often by means of a needle and syringe (Mantoux test) or by means of tines (tine test); test material may also be applied by means of a "patch" in which it is absorbed but this method (patch test) is considered less reliable; the test is read on the basis of induration and erythema, the former being considered the more diagnostic of infection with the tubercle bacillus (M. tuberculosis); the test does not distinguish between infection in a resistant person without disease and a person with clinical manifestations of disease.
Farlex Partner Medical Dictionary © Farlex 2012
tu·ber·cu·lin test
(

tū-bĕr'kyū-lin test

)

A dermatologic procedure in which tuberculin or its purified protein derivative (PPD) is injected into the skin; the test is read on the basis of local induration occurring in 48-72 hours.

Medical Dictionary for the Health Professions and Nursing © Farlex 2012
tine test
A disposable TUBERCULIN TEST unit similar to the Heaf test.

Collins Dictionary of Medicine © Robert M. Youngson 2004, 2005