tibia vara
Also found in:
Dictionary
,
Thesaurus
,
Encyclopedia
,
Wikipedia
.
tibia
[

tib´e-ah

]

the inner and larger of the two bones of the lower leg; it articulates with the

femur

and head of the

fibula

above and with the

talus

below. See appendix 3-3 and see color plates.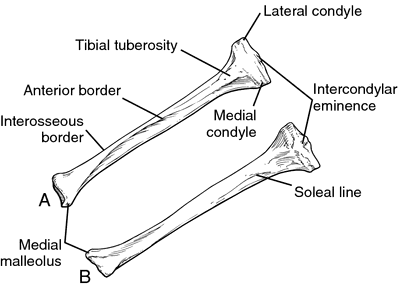 tibia val´ga a bowing of the leg in which the angulation is away from the midline of the body.
tibia va´ra
medial angulation of the tibia in the metaphyseal region, due to a growth disturbance of the medial aspect of the proximal tibial epiphysis; there are both infantile and adolescent types. Called also
Blount's disease
.
Miller-Keane Encyclopedia and Dictionary of Medicine, Nursing, and Allied Health, Seventh Edition. © 2003 by Saunders, an imprint of Elsevier, Inc. All rights reserved.
ge·nu va·'rum
a deformity marked by medial angulation of the leg in relation to the thigh; an outward bowing of the legs.
Farlex Partner Medical Dictionary © Farlex 2012
tibia vara
(1) Genu varum, see there.
(2) Blount's disease, see there.

Segen's Medical Dictionary. © 2012 Farlex, Inc. All rights reserved.
ge·nu va·rum
(

jē'nyū vā'rŭm

)

A deformity marked by medial angulation of the leg in relation to the thigh; an outward bowing of the lower limbs.

Synonym(s):

bowleg

,

bow-leg

,

tibia vara

.

Medical Dictionary for the Health Professions and Nursing © Farlex 2012