aminophylline
(redirected from theophylline ethylenediamine)
Also found in:
Dictionary
,
Thesaurus
,
Encyclopedia
.
Related to theophylline ethylenediamine:
codeine
aminophylline
[

am″ĭ-no-fil´in

]

a mixture of

theophylline

and

ethylenediamine

, acting as a respiratory stimulant, smooth muscle relaxant, myocardial stimulant, and diuretic. It is used as a

bronchodilator

and also as an antidote to

dipyridamole

toxicity. Administration may be oral, intramuscular, intravenous, or rectal. If intravenous administration is too rapid it can cause circulatory collapse. Intramuscular administration should be done with caution because aminophylline is very irritating to the tissues. Oral administration must also be cautious because there could be gastric or urinary irritation.

Miller-Keane Encyclopedia and Dictionary of Medicine, Nursing, and Allied Health, Seventh Edition. © 2003 by Saunders, an imprint of Elsevier, Inc. All rights reserved.
aminophylline (theophylline, ethylenediamine)
Amnivent (UK), Phyllocontin (UK)
Pharmacologic class: Xanthine
Therapeutic class: Bronchodilator
Pregnancy risk category C
Action
Unclear. Thought to directly relax smooth muscle of bronchial airways and increase pulmonary blood flow by inhibiting phosphodiesterase.
Availability
Injection: 250 mg/10 ml
Oral liquid: 105 mg/5 ml
Tablets: 100 mg, 200 mg
Indications and dosages
➣ Symptomatic relief of bronchospasm in patients with acute symptoms who require rapid theophyllinization
Adults (nonsmokers): 0.7 mg/kg/hour I.V. for first 12 hours. Maintenance dosage is 0.5 mg/kg/hour I.V.
Children ages 9 to 16: 1 mg/kg/hour I.V. for first 12 hours. Maintenance dosage is 0.8 mg/kg/hour I.V.
Children ages 6 months to 9 years: 1.2 mg/kg/hour I.V. for first 12 hours. Maintenance dosage is 1 mg/kg/hour I.V.
➣ Chronic bronchial asthma
Adults and children: Dosage is highly individualized. Common initial dosage is 16 mg/kg/24 hours I.V. or 400 mg/24 hours I.V. in divided doses at 6- or 8hour intervals. If needed, dosage may be increased 25% at 3-day intervals.
Dosage adjustment
• Heart failure
• Hepatic disease
• Elderly patients
• Smokers
Off-label uses
• Dyspnea in patients with chronic obstructive pulmonary disease (COPD)
Contraindications
• Hypersensitivity to xanthine compounds or ethylenediamine
• Seizure disorders
Precautions
Use cautiously in:
• COPD, diabetes mellitus, glaucoma, renal or hepatic disease, heart failure or other cardiac or circulatory impairment, hypertension, hyperthyroidism, peptic ulcer, severe hypoxemia
• active peptic ulcer disease
• elderly patients
• neonates, infants, and young children.
Administration
• For I.V. use, dilute according to label directions and infuse at a rate no faster than 25 mg/minute.
• Don't give in I.V. solutions containing invert sugar, fructose, or fat emulsions.
• Give oral form at meals with 8 oz of water.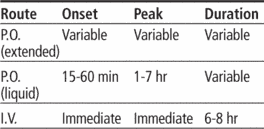 Adverse reactions
CNS: irritability, dizziness, nervousness, restlessness, headache, insomnia, stammering speech, abnormal behavior, mutism, unresponsiveness alternating with hyperactivity, seizures
CV: palpitations, sinus tachycardia, extrasystoles, marked hypotension, arrhythmias, circulatory failure
GI: nausea, vomiting, diarrhea, epigastric pain, hematemesis, gastroesophageal reflux, anorexia
GU: urine retention (in men with enlarged prostate), diuresis, increased excretion of renal tubular cells and red blood cells, proteinuria
Metabolic: hyperglycemia
Musculoskeletal: muscle twitching
Respiratory: tachypnea, respiratory arrest
Skin: flushing
Other: fever, hypersensitivity reactions (including exfoliative dermatitis and urticaria)
Interactions
Drug-drug. Adenosine: decreased antiarrhythmic effect of adenosine
Barbiturates, nicotine, phenytoin, rifampin: decreased aminophylline blood level
Beta-adrenergic blockers: antagonism of aminophylline effects
Calcium channel blockers, cimetidine, ciprofloxacin, disulfiram, erythromycin, hormonal contraceptives, influenza vaccine, interferon, methotrexate: elevated aminophylline blood level
Carbamazepine, isoniazid, loop diuretics (such as furosemide): increased or decreased aminophylline blood level
Ephedrine, other sympathomimetics: toxicity, arrhythmias
Lithium: increased lithium excretion
Drug-diagnostic tests. Aspartate aminotransferase, glucose: increased levels
Drug-herbs. Cayenne: increased risk of aminophylline toxicity
Drug-behaviors. Smoking: increased aminophylline elimination
Patient monitoring
☞ Monitor aminophylline blood level. Adjust dosage if patient has signs or symptoms of toxicity (tachycardia, headache, anorexia, nausea, vomiting, diarrhea, restlessness, and irritability).
• Assess for arrhythmias, especially after giving loading dose.
• Check vital signs and fluid intake and output.
• Monitor patient's response to drug, and assess pulmonary function test results.
Patient teaching
• Advise patient to take oral doses at meals with 8 oz of water.
• Caution patient to avoid driving and other hazardous activities until he knows how drug affects concentration and alertness.
• Tell patient to minimize GI upset by eating small, frequent servings of food and drinking plenty of fluids.
• Advise patient to establish effective bedtime routine to minimize insomnia.
• Caution patient not to change aminophylline brands.
• If patient smokes, tell him to notify prescriber if he stops smoking; dosage may need to be adjusted.
• As appropriate, review all other significant and life-threatening adverse reactions and interactions, especially those related to the drugs, tests, herbs, and behaviors mentioned above.
McGraw-Hill Nurse's Drug Handbook, 7th Ed. Copyright © 2013 by The McGraw-Hill Companies, Inc. All rights reserved
a·mi·no·phyl·line
(

ă-me-nō'fil'in

),

A solubilized form of theophylline; a diuretic, vasodilator, and cardiac stimulant; also used as a bronchodilator in asthma and in veterinary medicine.

Farlex Partner Medical Dictionary © Farlex 2012
aminophylline
(ăm′ə-nŏf′ə-lĭn)
n.
A theophylline derivative, C16H24N10O4, used as a bronchodilator in the treatment of bronchial asthma, emphysema, and bronchitis.
The American Heritage® Medical Dictionary Copyright © 2007, 2004 by Houghton Mifflin Company. Published by Houghton Mifflin Company. All rights reserved.
aminophylline
Therapeutics The ethylenediamine salt of theophylline, administered IV to Pts with acute asthma Sx Mechanism Inhibits cAMP phosphodiesterase Action Relaxes upper airway and pulmonary vessel smooth muscle, resulting in broncho- and vasodilation; it is also diuretic, coronary vasodilator, cardiac and cerebral stimulant Adverse effects GI irritation–anorexia, N&V, epigastric pain, restlessness, insominia, headache Contraindications Peptic ulcers, seizures, hypersensitivity to ethylenediamine. See Theophylline.

McGraw-Hill Concise Dictionary of Modern Medicine. © 2002 by The McGraw-Hill Companies, Inc.
aminophylline
A THEOPHYLLINE drug in combination with ethylenediamine used in the control of ASTHMA. In acute cases it can be given by intravenous injection but it is also effective by mouth or in a SUPPOSITORY. The drug is on the WHO official list. Brand names are Pecram and Phyllocontin.

Collins Dictionary of Medicine © Robert M. Youngson 2004, 2005