terminal bronchiole
Also found in:
Dictionary
,
Thesaurus
,
Encyclopedia
,
Wikipedia
.
bronchiole
[

brong´ke-ōl

]

one of the successively smaller channels into which the segmental bronchi divide within the bronchopulmonary segments. adj., adj bronchi´olar.

respiratory b's

the final branches of the bronchioles, communicating directly with the alveolar ducts; they are subdivisions of terminal bronchioles, have alveolar outcroppings, and themselves divide into several alveolar ducts.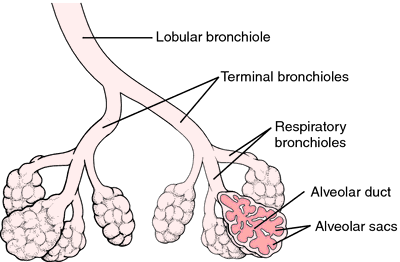 ( and see color plates.)
terminal bronchiole the last portion of a bronchiole that does not contain alveoli, i.e., one whose sole function is gas conduction; it subdivides into respiratory bronchioles.
Miller-Keane Encyclopedia and Dictionary of Medicine, Nursing, and Allied Health, Seventh Edition. © 2003 by Saunders, an imprint of Elsevier, Inc. All rights reserved.
ter·mi·nal bron·chi·ole
the end of the nonrespiratory conducting airway; the lining consists of simple columnar or cuboidal epithelium without mucous goblet cells; some of the cells are ciliated; numerous Clara cells also occur.
Farlex Partner Medical Dictionary © Farlex 2012
ter·mi·nal bron·chi·ole
(

tĕr'mi-năl brong'kē-ōl

)

The end of the nonrespiratory conducting airway; the lining is simple columnar or cuboidal epithelium without mucous goblet cells; most of the cells are ciliated, but a few nonciliated serous secreting cells occur.

Medical Dictionary for the Health Professions and Nursing © Farlex 2012