tentorial herniation
Also found in:
Dictionary
,
Thesaurus
.
herniation
[

her″ne-a´shun

]

abnormal protrusion of an organ or other body structure through a defect or natural opening in a covering membrane, muscle, or bone. (See also

hernia

.)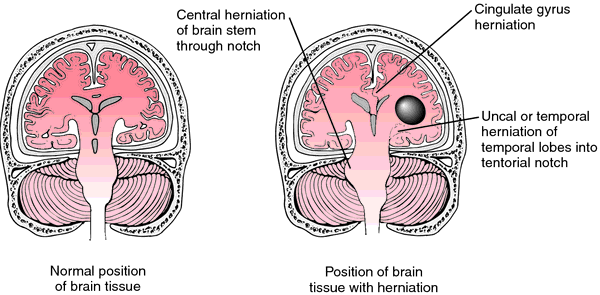 central herniation a downward shift of the brainstem and the diencephalon due to a supratentorial lesion, causing Cheyne-Stokes respirations with pinpoint nonreactive pupils.
cingulate herniation a shift of the cingulate gyrus to below the falx cerebri.
disk herniation
(
herniation of intervertebral disk
) (
herniation of nucleus pulposus
)
herniated disk.
tonsillar herniation protrusion of the cerebellar tonsils through the foramen magnum.
transtentorial herniation
downward displacement of medial brain structures through the tentorial notch by a supratentorial mass, exerting pressure on the underlying structures, including the brainstem; this is a life-threatening situation because of pressure on the third cranial nerve, with symptoms including dilated, nonreactive pupils, ptosis, and a decreased level of consciousness. Called also
caudal transtentorial herniation
,
tentorial herniation
, and
uncal herniation
.
Miller-Keane Encyclopedia and Dictionary of Medicine, Nursing, and Allied Health, Seventh Edition. © 2003 by Saunders, an imprint of Elsevier, Inc. All rights reserved.