talus
Also found in:
Dictionary
,
Thesaurus
,
Acronyms
,
Encyclopedia
,
Wikipedia
.
ankle
[

ang´k'l

]

1. the joint between the leg and foot.

2.

the area around this joint (see illustration).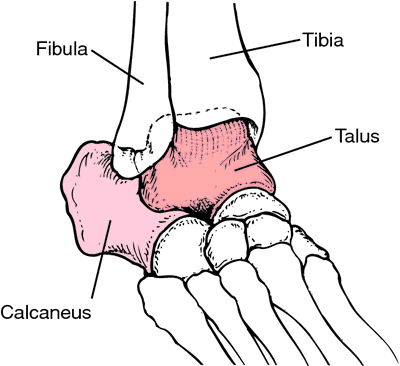 The ankle is a hinge joint formed by the junction of the
tibia
and
fibula
with the
talus
(ankle bone). The bones are cushioned by cartilage and connected by a number of ligaments, tendons, and muscles that strengthen the joint and enable it to be moved. Because it is in almost constant use, the ankle is particularly susceptible to injuries, such as
sprain
and
fracture
. It is also often one of the first joints to be affected by
arthritis
or
gout
.
ankle cuff a weighted strip wrapped around the ankle and closed with a Velcro band; used during exercise.
ta·lus
, gen. and pl.
ta·li
(

tā'lŭs, -lī

), [TA]

The bone of the foot that articulates superiorly with the tibia and fibula to form the ankle joint inferiorly with the calcaneus to form the subtalar joint, and anteriorly with the navicular, forming the medial component of the transverse tarsal joint.

[L. ankle bone, heel]
talus
(tā′ləs)
n.
pl.
ta·li
(-lī′)
1. The bone of the ankle that articulates with the tibia and fibula to form the ankle joint. Also called anklebone, astragalus.
2. The ankle.
ta·lus
, pl. tali (

tā'lŭs, -lī

) [TA]

The bone of the foot that articulates with the tibia and fibula to form the ankle joint.

Synonym(s):

ankle bone

,

ankle

(3) ,

astragalus

.

[L. ankle bone, heel]