surgeon's knot
(redirected from surgeons knot)
Also found in:
Dictionary
,
Thesaurus
,
Wikipedia
.
knot
[

not

]

1. an intertwining of the ends or parts of one or more threads, sutures, or strips of cloth.

2. in anatomy, a knoblike swelling or protuberance.

surgeon's knot

(

surgical knot

) a knot in which the thread is passed twice through the first loop and once through the second loop in square knot fashion.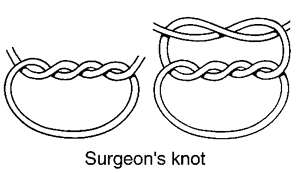 Miller-Keane Encyclopedia and Dictionary of Medicine, Nursing, and Allied Health, Seventh Edition. © 2003 by Saunders, an imprint of Elsevier, Inc. All rights reserved.
sur·geon's knot
the first loop of the knot has two throws rather than a single throw; the second loop has only one throw, which is placed in a square-knot fashion, leaving the free ends in the same plane as the first loop.
Farlex Partner Medical Dictionary © Farlex 2012
surgeon's knot
(sûr′jənz)
n.
pl.
surgeons' knots
Any of several knots, especially one similar to a square knot, used in surgery for tying ligatures or stitching incisions.
The American Heritage® Medical Dictionary Copyright © 2007, 2004 by Houghton Mifflin Company. Published by Houghton Mifflin Company. All rights reserved.
sur·geon's knot
(

sŭr'jŏnz not

)

The first loop of the knot has two throws rather than a single throw. The second loop has only one throw and is placed in a square-knot fashion, leaving the free ends in the same plane as the first loop.

Medical Dictionary for the Health Professions and Nursing © Farlex 2012