supine
(redirected from supines)
Also found in:
Dictionary
,
Thesaurus
,
Encyclopedia
.
supine
[

soo´pīn

]

lying with the face upward, or on the dorsal surface.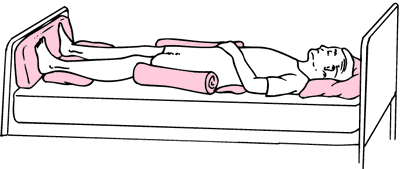 Miller-Keane Encyclopedia and Dictionary of Medicine, Nursing, and Allied Health, Seventh Edition. © 2003 by Saunders, an imprint of Elsevier, Inc. All rights reserved.
su·pine
(

sū-pīn'

), Although this word is more correctly accented on the first syllable, the pronunciation shown is usual in the U.S.

1. Denoting the body when lying face upward.

2. Supination of the forearm or of the foot.

[L. supinus]

Farlex Partner Medical Dictionary © Farlex 2012
supine
Imaging adjective Pertaining to a posture in which the anterior portion of the body faces upward, the torso is aligned parallel to the reference surface, and hips and knees extended Medtalk Lying on the back. See Position.

McGraw-Hill Concise Dictionary of Modern Medicine. © 2002 by The McGraw-Hill Companies, Inc.
su·pine
(

sū'pīn, sū-pīn'

)

1. Denoting the body when lying face upward; opposite of prone.

[L. supinus]

Medical Dictionary for the Health Professions and Nursing © Farlex 2012
supine
Lying on the back with the face upwards.

Collins Dictionary of Medicine © Robert M. Youngson 2004, 2005
su·pine
(

sū'pīn

)

1. Denoting the body when lying face upward.

2. Supination of the forearm or of the foot.

[L. supinus]

Medical Dictionary for the Dental Professions © Farlex 2012