staple
(redirected from staple strength)
Also found in:
Dictionary
,
Thesaurus
,
Legal
,
Encyclopedia
.
staple
[

sta´p'l

]

a stainless steel wound closure device, usually removed 7 to 10 days after the surgical procedure.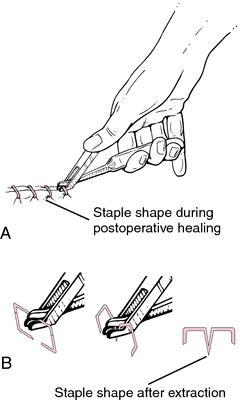 staple
(stā′pəl)
n.
A basic dietary item, such as flour, rice, or corn.
staple
Surgery A wire-like fastening device composed of steel-based alloys, used to close operative wounds, especially of skin, which minimizes infection by not introducing a foreign body that would connect external and internal body regions. See Surgical closure.
Patient discussion about staple
Q. hemorroid stapling dose any one know about this first hand,or had it done themself? mail me if you have!Thanks Hi, I will have this done on 8/4 . I do need to have some info. about it from someone who has had it done what I need to know before hand!HOW MUCH PAIN, BLEEDING ect. Drs can only tell you so much because they do the surgery but not had it done themself. Please let me know soon, Please!
A. I haven't had it done first hand but I do know from people who have done it that it can hurt in the first few days after and there will be slight bleeding, however that is expected decrease dramatically and make the bleeding eventually stop.
More discussions about staple