spot film
Also found in:
Dictionary
,
Thesaurus
,
Encyclopedia
.
film
[

film

]

1. a thin layer or coating.

2. a thin sheet of material (e.g., gelatin, cellulose acetate) specially treated for use in photography or radiography; used also to designate the sheet after exposure to the energy to which it is sensitive.

bite-wing film

an x-ray film with a protruding tab to be held between the upper and lower teeth, used for a

bite-wing

radiograph

of oral structures.

gelatin film, absorbable a sterile, nonantigenic, absorbable, water-insoluble coating used as an aid in surgical closure and repair of defects in the dura mater and pleura and as a local hemostatic.

spot film

a radiograph of a small anatomic area obtained either by rapid exposure during fluoroscopy to provide a permanent record of a transiently observed abnormality, or by limitation of radiation passing through the area to improve definition and detail of the image produced. See also

spot-film

radiography

.

x-ray film

film sensitized to x-rays, either before or after exposure.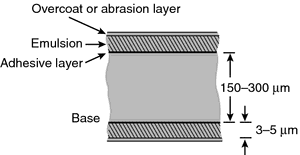 spot film
a radiograph made during the course of an examination under fluoroscopic control, with a device attached to the fluoroscope.
spot film
a radiograph made instantly during fluoroscopy. The technique may be used to make a permanent record of a transient effect or to record with definition and detail a small anatomical area.
spot film
---
spot film film device
a device attached to the x-ray machine which moves an x-ray cassette into position for exposure during a fluoroscopic examination.