spina
Also found in:
Dictionary
,
Thesaurus
,
Acronyms
,
Encyclopedia
,
Wikipedia
.
spina
[

spi´nah

] (L.)

spina bi´fida ante´rior a defect of closure on the anterior surface of the bony spinal canal, often associated with defective development of the abdominal or thoracic viscera.

spina bi´fida cys´tica

spina bifida in which there is protrusion through the defect of a cystic swelling that contains the meninges (

meningocele

) or the meninges and spinal cord (

meningomyelocele

).

spina bi´fida occul´ta

spina bifida in which there is a defect in the bony spinal canal without protrusion of the cord or meninges.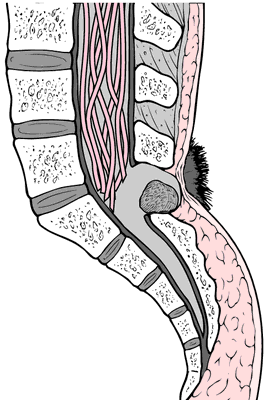 spina vento´sa dactylitis of the bones of the hands or feet, occurring mostly in infants and children, with enlargement of digits, caseation, sequestration, and sinus formation.
Miller-Keane Encyclopedia and Dictionary of Medicine, Nursing, and Allied Health, Seventh Edition. © 2003 by Saunders, an imprint of Elsevier, Inc. All rights reserved.
spine
(

spīn

), [TA]

1.

A short, sharp, thornlike process of bone; a spinous process. Synonym(s):

spina

[TA]

[L. spina]

Farlex Partner Medical Dictionary © Farlex 2012
ver·te·bral col·umn
(

vĕr'tĕ-brăl kol'ŭm

) [TA]

Medical Dictionary for the Health Professions and Nursing © Farlex 2012