sentinel node
Also found in:
Dictionary
,
Thesaurus
,
Encyclopedia
,
Wikipedia
.
node
[

nōd

]

a small mass of tissue in the form of a swelling, knot, or protuberance, either normal or pathological. adj., adj no´dal.

atrioventricular node

(

AV node

) a collection of cardiac fibers at the base of the interatrial septum that transmits the cardiac impulse initiated by the

sinoatrial node

.

Bouchard's n's cartilaginous and bony enlargements of the proximal interphalangeal joints of the fingers in degenerative joint disease; such nodes on the distal joints are called Heberden's nodes.

Delphian node a lymph node encased in the fascia in the midline just above the thyroid isthmus, so called because it is exposed first at operation and, if diseased, is indicative of disease of the thyroid gland.

Heberden's n's

nodular protrusions on the phalanges at the distal interphalangeal joints of the fingers in osteoarthritis. Similar nodes on the proximal joints are called

bouchard's nodes

.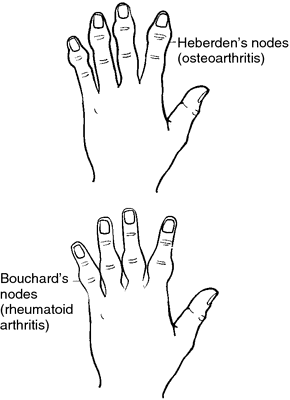 hemal n's nodes with a rich content of erythrocytes within sinuses, found near large blood vessels along the ventral side of the vertebrae and near the spleen and kidneys in various mammals, especially ruminants, having functions probably like those of the spleen; their presence in humans is doubtful.
Legendre's n's Bouchard's nodes.
Osler's n's
small, raised, swollen, tender areas, bluish or sometimes pink or red, due to inflammation around the site of lodgement of small infected emboli in distal arterioles; they occur commonly in the pads of the fingers or toes, in the palms, or in the soles and are practically pathognomonic for subacute bacterial
endocarditis
.
Parrot's n's bony nodes on the outer table of the skull of infants with congenital syphilis.
n's of Ranvier
constrictions of myelinated nerve fibers at regular intervals at which the
myelin

sheath
is absent and the axon is enclosed only by Schwann
cell
processes.
Schmorl's node an irregular or hemispherical bone defect in the upper or lower margin of the body of a vertebra into which the nucleus pulposus of the intervertebral disk herniates.
sentinel node
1.
the first
lymph node
to receive drainage from a tumor; used to determine whether there is lymphatic metastasis in certain types of cancer. If this node is negative for malignancy, others "upstream" from it are usually also negative.
signal node an enlarged supraclavicular lymph node; often the first sign of a malignant abdominal tumor.
singer's n's vocal cord nodules.
sinoatrial node
a collection of atypical muscle fibers in the wall of the right atrium where the rhythm of cardiac contraction is usually established; therefore also referred to as the pacemaker of the heart. Called also
SA node
.
syphilitic node a swelling on a bone due to syphilitic periostitis.
teacher's n's vocal cord nodules.
Miller-Keane Encyclopedia and Dictionary of Medicine, Nursing, and Allied Health, Seventh Edition. © 2003 by Saunders, an imprint of Elsevier, Inc. All rights reserved.
sentinel lymph node
the first lymph node to receive lymphatic drainage from a malignant tumor; the sentinel nodes are identified as the first to take on a radionuclide or dye injected into the tumor; increasingly used in operations for melanoma and breast cancer; if the sentinel nodes are free of metastasis, more distal nodes are usually also free.
See also:
signal lymph node
.
Farlex Partner Medical Dictionary © Farlex 2012
sentinel node
(1) Signal node, see there.
(2) An omental lymph node which is held to indicate adjacency of an ulcer of the greater- or lesser-gastric curvature.
(3) A lymph node draining directly from the site of a tumour, a biopsy of which is deemed appropriate where there is potential for metastasis. If the nodes contain malignancy (breast cancer, melanoma, colorectal cancer), then the patient undergoes lymphadenectomy, sparing those patients whose sentinel nodes do not have cancer the morbidity associated with removing the nodes.
(4) Stomach—An isolated, enlarged, often left-sided supraclavicular lymph node, classically associated with metastatic gastric carcinoma which, when found, indicates that the malignancy is non-resectable.

Segen's Medical Dictionary. © 2012 Farlex, Inc. All rights reserved.
sentinel node
Sentinel lymph node, signal node of Virchow An isolated, enlarged often left-sided supraclavicular lymph node, classically associated with metastatic gastric CA which, when found, indicates that the malignancy is non-resectable. Cf Mary Joseph nodule.

McGraw-Hill Concise Dictionary of Modern Medicine. © 2002 by The McGraw-Hill Companies, Inc.
sentinel node
A lymph node presumed to be the first to which a cancer will extend by lymphatic spread. In the case of breast cancer, armpit (axillary) sentinel nodes can be identified prior to surgery by injecting serum albumin tagged with the radioactive marker technetium-99m near to a breast tumour site. Lymph drainage ensures that the radioactivity will be concentrated in the sentinel node and this is demonstrated by scintigraphy. Surgical identification of the sentinel node can also be aided using a blue dye injected into the skin. See also SENTINEL NODE BIOPSY.

Collins Dictionary of Medicine © Robert M. Youngson 2004, 2005