sarcomere
Also found in:
Dictionary
,
Thesaurus
,
Encyclopedia
,
Wikipedia
.
sarcomere
[

sahr´ko-mēr

]

the contractile unit of a myofibril; sarcomeres are repeating units, delimited by the Z bands along the length of the myofibril.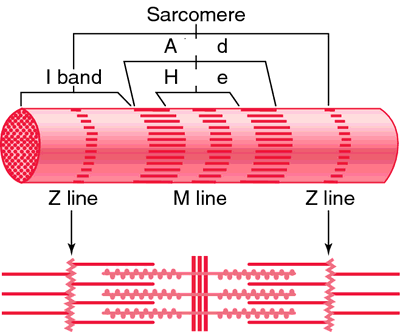 Miller-Keane Encyclopedia and Dictionary of Medicine, Nursing, and Allied Health, Seventh Edition. © 2003 by Saunders, an imprint of Elsevier, Inc. All rights reserved.
sar·co·mere
(

sar'kō-mēr

),

The segment of a myofibril between two adjacent Z lines, representing the functional unit of striated muscle.

[sarco- + G. meros, part]

Farlex Partner Medical Dictionary © Farlex 2012
sarcomere
(sär′kə-mîr′)
n.
One of the repeating contractile segments into which a myofibril is divided, composed of actin and myosin filaments and giving striated muscle its distinctive bands.
The American Heritage® Medical Dictionary Copyright © 2007, 2004 by Houghton Mifflin Company. Published by Houghton Mifflin Company. All rights reserved.
sar·co·mere
(

sahr'kō-mēr

)

The segment of a myofibril between two adjacent Z lines, representing the functional unit of striated muscle.

[sarco- + G. meros, part]

Medical Dictionary for the Health Professions and Nursing © Farlex 2012
sarcomere
The structural unit of a striped muscle fibre (myofibril).

Collins Dictionary of Medicine © Robert M. Youngson 2004, 2005
sarcomere
that part of the muscle fibre which is contained between two Z-MEMBRANES, and is the contractile element of the fibre.

Collins Dictionary of Biology, 3rd ed. © W. G. Hale, V. A. Saunders, J. P. Margham 2005