salpingostomy
salpingostomy
[

sal″ping-gos´tah-me

]

1. surgical creation of an opening or formation of a fistula into a fallopian tube for the purpose of drainage.

2.

surgical restoration of the patency of a fallopian tube.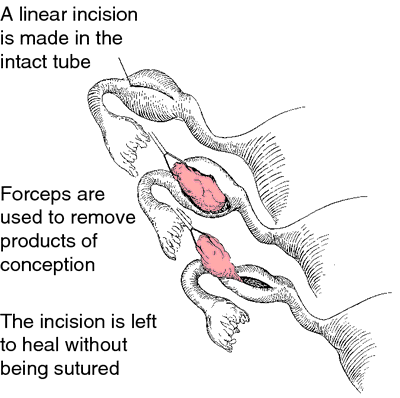 sal·pin·gos·to·my
(

sal'ping-gos'tŏ-mē

),

Establishment of an artificial opening in a uterine tube primarily as surgical treatment for an ectopic pregnancy.

[salpingo- + G. stoma, mouth]
salpingostomy
(săl′pĭng-gŏs′tə-mē)
n.
Surgical formation of an opening in a fallopian tube that has been closed by inflammation.
sal·pin·gos·to·my
(

sal'ping-gos'tŏ-mē

)

Establishment of an artificial opening in a uterine tube primarily as surgical treatment for an ectopic pregnancy.

[salpingo- + G. stoma, mouth]