reversed coarctation
Also found in:
Dictionary
,
Thesaurus
,
Encyclopedia
.
coarctation
[

ko″ahrk-ta´shun

]

coarctation of aorta

a

congenital heart defect

consisting of localized deformity of the

tunica media

of the aorta, causing narrowing (usually severe) of the lumen of the vessel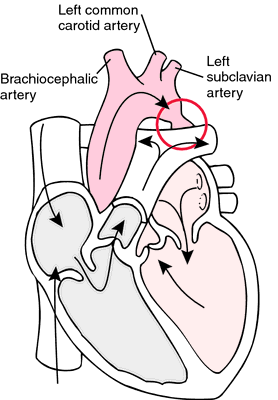 .
Miller-Keane Encyclopedia and Dictionary of Medicine, Nursing, and Allied Health, Seventh Edition. © 2003 by Saunders, an imprint of Elsevier, Inc. All rights reserved.
re·versed co·arc·ta·tion
aortic arch syndrome in which blood pressure in the arms is lower than in the legs.
Farlex Partner Medical Dictionary © Farlex 2012
re·versed co·arc·ta·tion
(

rē-vĕrst' kō'ahrk-tā'shŭn

)

Aortic arch syndrome in which blood pressure in the arms is lower than in the legs.

Medical Dictionary for the Health Professions and Nursing © Farlex 2012