reticuloendothelial
Also found in:
Dictionary
,
Thesaurus
,
Legal
,
Financial
,
Encyclopedia
,
Wikipedia
.
reticuloendothelial
[

rĕ-tik″u-lo-en″do-the´le-al

]

pertaining to the reticuloendothelium or to the reticuloendothelial system.

reticuloendothelial system

a network of cells and tissues found throughout the body, especially in the blood, general connective tissue, spleen, liver, lungs, bone marrow, and lymph nodes. They have both endothelial and reticular attributes and the ability to take up colloidal dye particles. Some of the reticuloendothelial cells found in the blood and in the general connective tissue are unusually large in size. These cells are concerned with blood cell formation and destruction, storage of fatty materials, and metabolism of iron and pigment, and they play a role in inflammation and immunity. Some of the cells are motile—that is, capable of spontaneous motion—and phagocytic—they can ingest and destroy unwanted foreign material.

The reticuloendothelial cells of the

spleen

possess the ability to dispose of disintegrated erythrocytes. They do not, however, destroy hemoglobin, which is liberated in the process.

The reticuloendothelial cells located in the blood cavities of the

liver

are called Kupffer cells. These cells, together with the cells of the general connective tissue and bone marrow, are capable of transforming into bile pigment the hemoglobin released by disintegrated erythrocytes.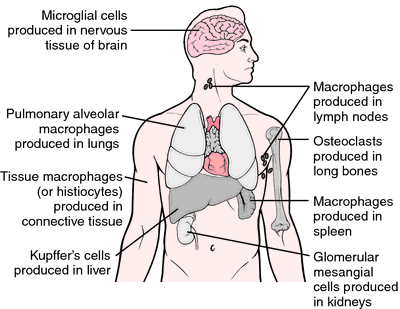 Miller-Keane Encyclopedia and Dictionary of Medicine, Nursing, and Allied Health, Seventh Edition. © 2003 by Saunders, an imprint of Elsevier, Inc. All rights reserved.
re·tic·u·lo·en·do·the·li·al
(

re-tik'yū-lō-en'dō-thē'lē-ăl

),

Farlex Partner Medical Dictionary © Farlex 2012
reticuloendothelial
(rĭ-tĭk′yə-lō-ĕn′də-thē′lē-əl)
adj.
Of or relating to the reticuloendothelial system.
The American Heritage® Medical Dictionary Copyright © 2007, 2004 by Houghton Mifflin Company. Published by Houghton Mifflin Company. All rights reserved.
re·tic·u·lo·en·do·the·li·al
(

rĕ-tik'yū-lō-en'dō-thē'lē-ăl

)

Denoting or referring to reticuloendothelium.

Medical Dictionary for the Health Professions and Nursing © Farlex 2012