reflex arc
Also found in:
Dictionary
,
Thesaurus
,
Encyclopedia
,
Wikipedia
.
arc
[

ahrk

]

a part of the circumference of a circle, or a regularly curved line.

binauricular arc the arc across the top of the head from one auricular point to the other.

reflex arc

the circuit traveled by impulses producing a reflex action: receptor organ, afferent nerve, nerve center, efferent nerve, effector organ in a muscle; see also

reflex

.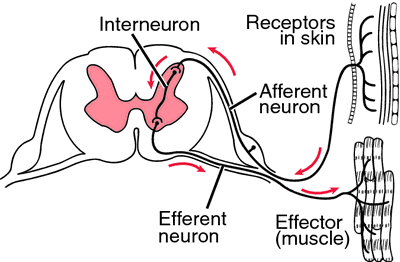 Miller-Keane Encyclopedia and Dictionary of Medicine, Nursing, and Allied Health, Seventh Edition. © 2003 by Saunders, an imprint of Elsevier, Inc. All rights reserved.
re·flex arc
1. the route followed by nerve impulses in the production of a reflex act, from the peripheral receptor organ through the afferent nerve to the central nervous system synapse and then through the efferent nerve to the effector organ.
2. a neural pathway that involes both the peripheral and central nervous systems.
Farlex Partner Medical Dictionary © Farlex 2012
reflex arc
n.
Physiology
The neural path of a reflex.
The American Heritage® Medical Dictionary Copyright © 2007, 2004 by Houghton Mifflin Company. Published by Houghton Mifflin Company. All rights reserved.
reflex arc
Neurology The basic conduction pathway through the nervous system, consisting of a sensory neuron, an association neuron, and a motor neuron

McGraw-Hill Concise Dictionary of Modern Medicine. © 2002 by The McGraw-Hill Companies, Inc.
re·flex arc
(

rē'fleks ahrk

)

The route followed by nerve impulses in the production of a reflex act, from the peripheral receptor organ through the afferent nerve to the central nervous system synapse and then through the efferent nerve to the effector organ.

Medical Dictionary for the Health Professions and Nursing © Farlex 2012
reflex arc
The path followed by a nerve impulse to produce a reflex action. The impulse originates in a receptor at the point of stimulation, passes through an afferent neuron or neurons to a reflex center in the brain or spinal cord, and from the center out through efferent neurons to the effector organ, where the response occurs.

See: illustration

Medical Dictionary, © 2009 Farlex and Partners
reflex arc
the nervous connections between RECEPTOR and EFFECTOR that result in a simple response being elicited by a specific stimulus (a reflex action), such as a knee jerk without the involvement of the brain. The receptor is excited by a stimulus which induces a nerve impulse in the DENDRITE of a sensory (afferent) NEURONE. This passes through the cell body in the dorsal root ganglion and on along the sensory AXON to the SPINAL CORD. There it crosses a SYNAPSE, usually to an intermediate neurone which synapses with the efferent neurone and passes out of the spinal cord via the ventral root along the axon of the motor (efferent) neurone to the effector which produces the stereotyped response. Most reflexes involve more than one synapse, i.e. are polysynaptic, but those concerned with posture are often monosynaptic, such as the knee-jerk reflex. See Fig. 267 . see RAMUS COMMUNICANS.

Collins Dictionary of Biology, 3rd ed. © W. G. Hale, V. A. Saunders, J. P. Margham 2005
re·flex arc
(

rē'fleks ahrk

)

1. Route followed by nerve impulses in production of a reflex act, from peripheral receptor organ through afferent nerve to central nervous system synapse and then through efferent nerve to effector organ.

2. Neural pathway that involes both peripheral and central nervous systems.

Medical Dictionary for the Dental Professions © Farlex 2012