reciprocal translocation
Also found in:
Dictionary
,
Thesaurus
,
Encyclopedia
.
translocation
[

trans″lo-ka´shun

]

the attachment of a fragment of one chromosome to a nonhomologous chromosome.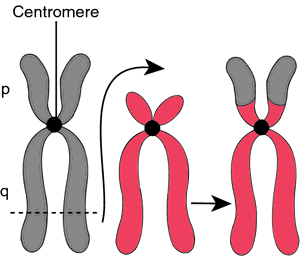 reciprocal translocation the mutual exchange of fragments between two broken chromosomes, one part of one uniting with part of the other.
robertsonian translocation that in which the breaks occur at the centromeres and entire chromosome arms are exchanged, usually involving two acrocentric chromosomes.
Miller-Keane Encyclopedia and Dictionary of Medicine, Nursing, and Allied Health, Seventh Edition. © 2003 by Saunders, an imprint of Elsevier, Inc. All rights reserved.
re·cip·ro·cal trans·lo·ca·tion
translocation without demonstrable loss of genetic material.
Farlex Partner Medical Dictionary © Farlex 2012
re·cip·ro·cal trans·lo·cation
(

rĕ-sip'rŏ-kăl tranz'lō-kā'shŭn

)

Translocation without demonstrable loss of genetic material.

Medical Dictionary for the Health Professions and Nursing © Farlex 2012