randomization
(redirected from randomized)
Also found in:
Dictionary
,
Thesaurus
,
Financial
,
Encyclopedia
,
Wikipedia
.
randomization
[

ran″dom-ĭ-za´shun

]

random assignment.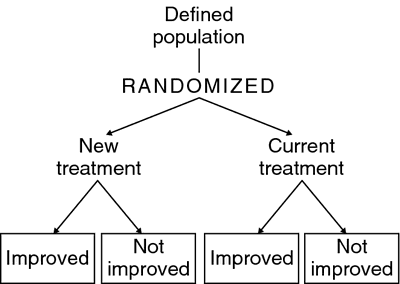 Miller-Keane Encyclopedia and Dictionary of Medicine, Nursing, and Allied Health, Seventh Edition. © 2003 by Saunders, an imprint of Elsevier, Inc. All rights reserved.
ran·dom·i·za·tion
(

ran'dom-ĭ-zā'shun

),

Random allocation, the process of selecting entities, for example, treatment regimens, using a formal system whereby each entity has a known, generally an equal chance of being selected. This may be accomplished by means of a table of random numbers, toss of a coin, or some other system in which selection or nonselection is determined by chance alone.

Farlex Partner Medical Dictionary © Farlex 2012
randomization
Random assignment, random allocation, randomized allocation Statistics The selection of subjects or samples for each 'arm' of a study or experiment based on chance alone–ie, a theoretical coin toss, which is intended to minimize the influence of irrelevant details and selection bias, and produce statistically valid data. Cf Convenience sample.

McGraw-Hill Concise Dictionary of Modern Medicine. © 2002 by The McGraw-Hill Companies, Inc.
ran·dom·i·za·tion
(

ran'dŏm-ī-zā'shŭn

)

Assignment of the subjects of experimental research to groups by chance.

Synonym(s):

randomisation

.

Medical Dictionary for the Health Professions and Nursing © Farlex 2012