randomization
Also found in:
Dictionary
,
Thesaurus
,
Financial
,
Encyclopedia
,
Wikipedia
.
randomization
[

ran″dom-ĭ-za´shun

]

random assignment.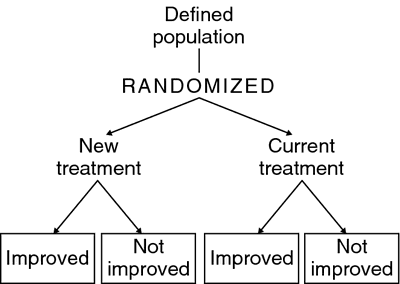 ran·dom·i·za·tion
(

ran'dom-ĭ-zā'shun

),

Random allocation, the process of selecting entities, for example, treatment regimens, using a formal system whereby each entity has a known, generally an equal chance of being selected. This may be accomplished by means of a table of random numbers, toss of a coin, or some other system in which selection or nonselection is determined by chance alone.
randomization
Etymology: ME, randoun, run violently
the process of assigning subjects or objects to a control or experimental group on a random basis.
randomization
Random assignment, random allocation, randomized allocation Statistics The selection of subjects or samples for each 'arm' of a study or experiment based on chance alone–ie, a theoretical coin toss, which is intended to minimize the influence of irrelevant details and selection bias, and produce statistically valid data. Cf Convenience sample.
ran·dom·i·za·tion
(

ran'dŏm-ī-zā'shŭn

)

Assignment of the subjects of experimental research to groups by chance.

Synonym(s):

randomisation

.
randomization (ranˈ·d·m·zāˑ·shn),
n a method based on chance in which participants of a clinical study are assigned to comparison and/or control and treatment groups. Randomization minimizes the differences among groups by equally distributing people with particular characteristics among all the trial groups. Randomization can also be done in laboratory and observational studies.
randomization
the performance of a function, e.g. selection, in a random manner.