wrist
(redirected from radiocarpal joint)
Also found in:
Dictionary
,
Thesaurus
,
Encyclopedia
,
Wikipedia
.
wrist
[

rist

]

the region of the joint between the hand and the forearm; it contains eight bones, called the

carpal bones

(see anatomic Table of Bones in the Appendices). The bones are arranged in two rows, whose joint surfaces glide upon each other in four directions; they join the bones of the forearm, the

radius

and

ulna

, as well as the bones of the hand, the

metacarpals

. They are bound together and protected by tough ligaments and capsules, the enveloping structures. The major arteries, nerves, veins, and tendons that serve the hand and fingers run across the wrist. Both the tendons and the joint are lined with synovial membrane. Called also

carpus

.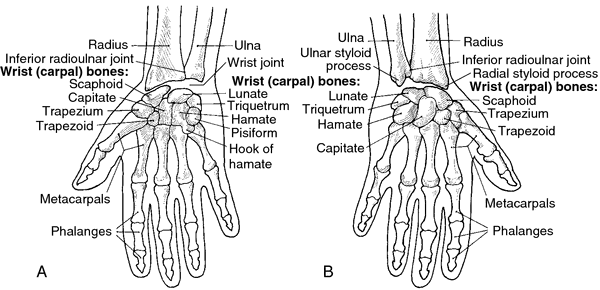 Miller-Keane Encyclopedia and Dictionary of Medicine, Nursing, and Allied Health, Seventh Edition. © 2003 by Saunders, an imprint of Elsevier, Inc. All rights reserved.
wrist
(

rist

), [TA]

The proximal segment of the hand consisting of the carpal bones and the associated soft parts.

[A.S. wrist joint, ankle joint]

Farlex Partner Medical Dictionary © Farlex 2012
wrist
(rĭst)
n.
a. The joint between the human hand and forearm.
b. A similar joint in other vertebrates.
The American Heritage® Medical Dictionary Copyright © 2007, 2004 by Houghton Mifflin Company. Published by Houghton Mifflin Company. All rights reserved.
WRIST
Cardiology A clinical trial–Washington Radiation for In-Stent restenosis Trial
---
wrist
See CLIP wrist, Golfer's wrist, SLAC wrist, Tennis wrist.

McGraw-Hill Concise Dictionary of Modern Medicine. © 2002 by The McGraw-Hill Companies, Inc.
wrist
(

rist

) [TA]

The proximal segment of the hand consisting of the carpal bones and the associated soft parts.

Synonym(s):

carpus

(1) [TA] .

[A.S. wrist joint, ankle joint]

Medical Dictionary for the Health Professions and Nursing © Farlex 2012
wrist
The complex, many-boned joint between the hand and the arm. The eight wrist bones, or carpals, are arranged in two rows, the nearer row, which articulates with the forearm bones, containing the scaphoid, lunate, triquetral, and pisiform bones, and the farther row the trapezium, trapezoid, capitate, and hamate. These are connected to the bones of the palm, the metacarpals. Many tendons, connecting forearm muscles to the fingers and thumb, run through the wrist. These pass under ligamentous straps (retinacula) which prevents them from springing away from the wrist. Arteries and nerves also pass through the wrist.

Collins Dictionary of Medicine © Robert M. Youngson 2004, 2005
wrist
(

rist

) [TA]

The proximal segment of the hand consisting of the carpal bones and the associated soft parts.

[A.S. wrist joint, ankle joint]

Medical Dictionary for the Dental Professions © Farlex 2012