rachicentesis
Also found in:
Dictionary
,
Thesaurus
,
Encyclopedia
,
Wikipedia
.
lumbar
[

lum´bahr

]

lumbar puncture

introduction of a hollow needle into the subarachnoid space of the spinal canal, usually between the fourth and fifth lumbar vertebrae; see also

cisternal puncture

. Called also

spinal puncture

.

It may be done for diagnostic purposes to determine the pressure within the cerebrospinal cavities, to determine presence of an obstruction to flow of

cerebrospinal fluid

, to remove a specimen of cerebrospinal fluid for laboratory examination, or to inject air or other contrast medium into the spinal canal to take an x-ray of the cerebrospinal system.

Patient Care

. Before the procedure is begun the patient is given a simple explanation of the nature and purpose of the test and is told that there is no danger of damage to the spinal cord during a lumbar puncture because the spinal cord does not extend below the second lumbar vertebra. For a cisternal puncture, the back of the neck may be shaved.

The patient is positioned so that the knees and head are flexed as much as possible and is assisted in maintaining this position during the entire procedure. A local anesthetic is injected subcutaneously to anesthetize the skin and underlying tissues. The patient should be warned not to move suddenly and told there may be a slight feeling of pressure when the puncture needle is inserted.

Strict adherence to the rules of aseptic technique is necessary to avoid the possibility of introducing microorganisms into the spinal canal. The attendant may be asked to assist in the Queckenstedt test during the lumbar puncture. This test involves compression of the veins of the neck, first on one side, then on the other and finally on both sides at once. The cerebrospinal fluid pressure is measured each time the veins are compressed. This test determines whether there is an obstruction in the spinal canal. Care must be taken that the trachea is not constricted while the neck veins are being compressed.

After the procedure the patient is observed for signs of pulse changes, respiratory difficulty, or cyanosis. These rarely occur, but headache is common and may be partially relieved by keeping the patient flat in bed for 8 hours after the procedure. An ice cap and aspirin may help alleviate the discomfort.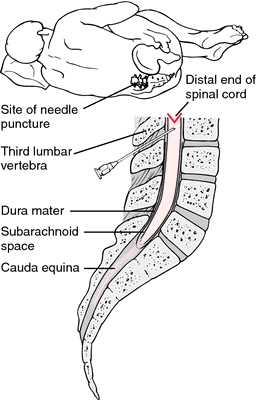 ---
puncture
[

pungk´chur

]

1. the act of piercing or penetrating with a pointed object.

2. a wound so made.

tracheoesophageal puncture

surgical creation of a tracheoesophageal fistula to hold a one-way plastic valve to restore speech after

Laryngectomy

.

Miller-Keane Encyclopedia and Dictionary of Medicine, Nursing, and Allied Health, Seventh Edition. © 2003 by Saunders, an imprint of Elsevier, Inc. All rights reserved.
lum·bar punc·ture (LP),
a puncture into the subarachnoid space of the lumbar region to obtain spinal fluid for diagnostic or therapeutic purposes.
Farlex Partner Medical Dictionary © Farlex 2012
lum·bar punc·ture
(

lŭm'bahr pŭngk'shŭr

)

Medical Dictionary for the Health Professions and Nursing © Farlex 2012