pseudochylous effusion
Also found in:
Dictionary
,
Thesaurus
,
Encyclopedia
.
effusion
[

ĕ-fu´zhun

]

1. escape of a fluid into a part; exudation or transudation.

2. an exudate or transudate.

pericardial effusion

the accumulation of an abnormally large amount of pericardial fluid in the pericardium.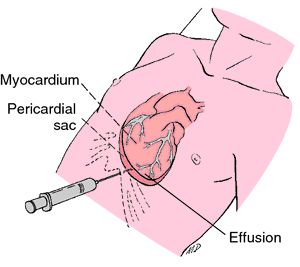 Miller-Keane Encyclopedia and Dictionary of Medicine, Nursing, and Allied Health, Seventh Edition. © 2003 by Saunders, an imprint of Elsevier, Inc. All rights reserved.
pseudochylous effusion
A milky pleural effusion mimicking chylothorax, associated with ↑ lipids–cholesterol or lecithin-globulin complexes, seen in chronic pulmonary effusions, as in TB, rheumatoid arthritis or empyema. Cf Chylous effusion.

McGraw-Hill Concise Dictionary of Modern Medicine. © 2002 by The McGraw-Hill Companies, Inc.