proptosis
(redirected from proptoses)
Also found in:
Dictionary
,
Encyclopedia
.
proptosis
[

prop-to´sis

]

forward displacement or bulging, especially of the eye.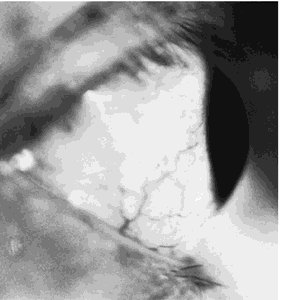 Miller-Keane Encyclopedia and Dictionary of Medicine, Nursing, and Allied Health, Seventh Edition. © 2003 by Saunders, an imprint of Elsevier, Inc. All rights reserved.
ex·oph·thal·mos
, exophthalmus (

ek'sof-thal'mos

),

Protrusion of one or both eyeballs; can be congenital and familial, or due to pathology, such as a retroorbital tumor (usually unilateral) or thyroid disease (usually bilateral).

[G. ex, out, + ophthalmos, eye]

Farlex Partner Medical Dictionary © Farlex 2012
proptosis
(prŏp-tō′sĭs)
n.
pl.
propto·ses
(-sēz)
Forward displacement of an organ, especially an eyeball.
The American Heritage® Medical Dictionary Copyright © 2007, 2004 by Houghton Mifflin Company. Published by Houghton Mifflin Company. All rights reserved.
proptosis
Medtalk Forward displacement of the eyeball. See Exophthalmos.

McGraw-Hill Concise Dictionary of Modern Medicine. © 2002 by The McGraw-Hill Companies, Inc.
ex·oph·thal·mos
, exophthalmus (

eks'of-thal'mos, -mŭs

)

Protrusion of one or both eyeballs; can be congenital and familial, or due to pathology, such as a retroorbital tumor (usually unilateral) or thyroid disease (usually bilateral).

Synonym(s):

proptosis

.

[G. ex, out, + ophthalmos, eye]

Medical Dictionary for the Health Professions and Nursing © Farlex 2012
proptosis
Abnormal protrusion of the eyeball. Also known as EXOPHTHALMOS. Proptosis is cause by any process that increases the bulk of the soft tissues in the ORBIT behind the eyeball.

Collins Dictionary of Medicine © Robert M. Youngson 2004, 2005
proptosis 
Millodot: Dictionary of Optometry and Visual Science, 7th edition. © 2009 Butterworth-Heinemann
ex·oph·thal·mos
, exophthalmus (

eks'of-thal'mos, -mŭs

)

Protrusion of one or both eyeballs; can be congenital and familial, or due to pathology.

Synonym(s):

proptosis

.

[G. ex, out, + ophthalmos, eye]

Medical Dictionary for the Dental Professions © Farlex 2012