evaluation
(redirected from process evaluation)
Also found in:
Dictionary
,
Thesaurus
,
Financial
,
Encyclopedia
.
evaluation
[

e-val″u-a´shun

]

a critical appraisal or assessment; a judgment of the value, worth, character, or effectiveness of something; measurement of progress. A broad view of evaluation in health care includes three approaches, directed toward

structure

,

process

, and

outcome

, depending on the focus of evaluation and the criteria or standards being used.

Structure evaluations

are concerned with physical facilities, equipment, staffing, and other characteristics of the facility or agency that have an effect on the quality of care being provided.

Process evaluations

center on the activities of the provider and what the provider has done to assess, plan, and implement nursing care. The criteria used in process evaluations in nursing are the Standards of Nursing Practice developed by the American Nurses' Association. Structure and process evaluations are primarily concerned with

quality assurance

and

nursing audits

.

Outcome evaluations

focus on the patient and goals set forth in the care plan and therefore are patient- and goal-oriented. Thus, outcome evaluation is the measurement of a patient's progress or lack of progress toward achievement of specified goals.

The purpose of the evaluation is to determine whether outcome criteria have been met and how care for the patient might be improved. Evaluation is

not

done to find fault or lay blame for inefficiency, incompetence, or carelessness. It is done for the purpose of improvement, by identifying specific areas that need change for the better. Some weaknesses that could be found during evaluation are vague or inaccurate statement of the problem because of poor assessment or faulty analysis and interpretation of data, unrealistic goal-setting due to overestimating capabilities of the patient or available resources, and well-intentioned but inappropriate nursing interventions that do not effectively meet the hoped-for outcome criteria.

Evaluation of direct care and the effectiveness of care plans and interventions is an ongoing activity. It serves to direct reassessment of patient status, the reordering of priorities, new goal-setting, and revision of nursing care as indicated.

The basic components of evaluation are (1) identifying the parameters of the subject of appraisal, (2) developing criteria specific to the topic within the parameters, (3) data gathering, (4) measuring the data against the criteria, and (5) employing the results of assessment for improvement of the process, status, behavior, or activity evaluated.

Parameters

are the exact dimensions or fixed limits that clearly define the area of evaluation. They establish the frame of reference within which the process will take place and are essential to accurate interpretation and meaningful use of the results of the evaluation. Parameters to be considered might include the framework of time within which the data gathering will take place, description of the kinds of data to be obtained, and specification of the patient population selected for evaluation of patient care. In a

nursing audit

, for example, the medical records chosen for audit might be those of patients whose admission and discharge dates were within a specific period of time, and whose age range and diagnoses were similar. Since it is a

nursing

audit, the kind of data collected should be limited to information related to the area of nursing activities and the resulting patient care outcomes recorded on the patient's chart.

In the assessment of a patient's status on the health/illness continuum, the parameters might limit the appraisal to respiratory function, neuromuscular function, emotional status, or any of a number of areas that are important to accomplishing the overall goals and objectives of health care for that specific patient.

Data gathering

involves the collection of information that gives factual and objective evidence about the subject being evaluated. The evidence may be obtained through observation, interview, the review of patient records, and, as in the case of assessment of a patient's health/illness status, through such procedures as laboratory analysis and testing, radiologic studies, and other diagnostic techniques, as well as a physical assessment or examination and history taking.

The data collected become documented evidence, which is then measured against the established criteria. If the evidence indicates that all of the criteria are being met, there is no indication of a problem in the area of evaluation. If the evidence shows that certain criteria are not met, these deficiencies are identified as the ones needing attention so that there can be progress toward the stated goals.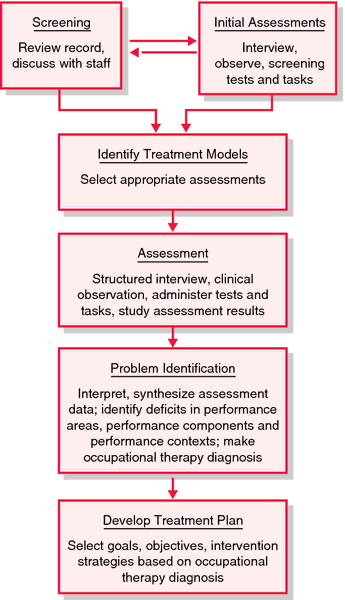 criterion-referenced evaluation
evaluation of performance by judging an individual's behavior, performance, or knowledge against specific criteria or standards. See also
criterion-referenced

testing
.
formative evaluation evaluation that involves feedback regarding progress being made; it involves the continuous gathering of evaluative data throughout a learning experience.
normative-referenced evaluation evaluation in which the scores of an individual are interpreted in light of the norm or distribution of scores of others taking the same test; progress is determined by how well the individual compares with peers.
product evaluation
in the
nursing interventions classification
, a
nursing

intervention
defined as determining the effectiveness of new products or equipment.
summative evaluation evaluation that involves one statement of the extent of achievement of objectives or goals; it involves the gathering of evaluative data at the end of a learning experience.
Miller-Keane Encyclopedia and Dictionary of Medicine, Nursing, and Allied Health, Seventh Edition. © 2003 by Saunders, an imprint of Elsevier, Inc. All rights reserved.
e·val·u·a·tion
(

ē-val'yū-ā'shŭn

),

Systematic, objective assessment of the relevance, effectiveness, and impact of activities in the light of specified objectives.

Farlex Partner Medical Dictionary © Farlex 2012
evaluation
Child psychiatry A process conducted by mental health professionals resulting in an opinion about a child's mental or emotional capacity, which may include treatment or placement recommendations. See Assessment Medtalk The assessment of a person's past medical history and present status. See Cost effectiveness evaluation, Economic evaluation, PART evaluation, PRIME-MD evaluation, Psychiatric evaluation, Urodynamic evaluation.

McGraw-Hill Concise Dictionary of Modern Medicine. © 2002 by The McGraw-Hill Companies, Inc.
e·val·u·a·tion
(

ĕ-val'yū-ā'shŭn

)

1.

nursing

Determining whether expected outcomes were met; measuring effectiveness of nursing care, medical care, and forms of health care by other providers.

2.

Synthesis of examination findings into a defined cluster of diagnostic classifications.

Synonym(s):

assessment

(1) .

Medical Dictionary for the Health Professions and Nursing © Farlex 2012
e·val·u·a·tion
(

ĕ-val'yū-ā'shŭn

)

Systematic, objective assessment of the relevance, effectiveness, and impact of activities in the light of specified objectives.

Medical Dictionary for the Dental Professions © Farlex 2012
Patient discussion about evaluation
Q. What does an autism evaluation consist of? How long does it take? My two year old is getting evaluated for autism and I want to know what to expect. He is already in speech therapy. His speech therapist said she sees no signs of autism but I still want him tested just to be sure.
A. Hi Hun.. my twin son Thomas was 3 when he was taken to an assessment unit it was a 6 week look at him and how he was and acted, within a few sessions he was diagnosed with severe autism, he is nine now and still non verbal and still in nappies, i have to say autism isn't just about the lack of speech its a lot more than this, lack of eye contact , no interest in playing with other children head banging limited diet also can he a factor, Thomas had a speech therapist before he was assest at the "child development center" and even she said she thought he had autism but its not down to them they just pass on to the right people what she seen during the session, age two is very Young to be assest that is why (depending where your from) they like to leave it to three as speech is still developing.
Q. Can someone please explain the reason for juvenile delinquency?
A. Juvenile delinquency is not necessarily a trait of bipolar disorder, although it is possible for a person with bipolar disorder to act on impulse while experiencing an episode. To use Justins example, shop lifting, an adult in a manic episode may spend all of their money without thought or reason, where a child/youth may not have money to spend which may lead to shop lifting. In a manic episode Justin is right the lines between right and wrong can be blurred, thus the person suffering may make poor decisions and can find themselves in trouble with the law.
Q. Are Bipolar disorder and alcoholism related to each other? I need to know this.
A. People with bipolar disorder have a higher risk of becoming dependant on alcohol or drugs. It is called self medicating. Usually this behavior begins before there is a diagnosis or if diagnosed and being treated the treatment is not working properly. The substance offers the person a "mental break" the problem is this break is temperary because alcohol is a depressant so only for a little while is their any relief and then the depression worsens. It becomes a nasty cycle. If you or someone you know is self medicating and is being treated for bipolar disorder I would suggest going to the doctors and talking about your/their adictions and deside with a professional if the medications currently being taken are effective. From there hopefully the need for alcohol or drugs will lessen, then it is an issue of making a decision to stop all together.
More discussions about evaluation
This content is provided by iMedix and is subject to iMedix Terms. The Questions and Answers are not endorsed or recommended and are made available by patients, not doctors.