potassium iodide
Also found in:
Dictionary
,
Thesaurus
,
Acronyms
,
Encyclopedia
,
Wikipedia
.
potassium
(K) [

po-tas´e-um

]

a chemical element, atomic number 19, atomic weight 39.102. (See Appendix 6.) In combination with other minerals in the body, potassium forms alkaline salts that are important in body processes and play an essential role in maintenance of the acid-base and water balance in the body. All body cells, especially muscle tissue, require a high content of potassium. A proper balance between

sodium

,

calcium

, and potassium in the blood plasma is necessary for proper cardiac function.

Since most foods contain a good supply of potassium, potassium deficiency (

hypokalemia

) is unlikely to be caused by an unbalanced diet. Possible causes include

cushing's syndrome

(due to an adrenal gland disorder) and

fanconi's syndrome

(the result of a congenital kidney defect). The cause could also be an excessive dose of

cortisone

, prolonged vomiting or diarrhea, or

thiazide

diuretics

, which are administered for treatment of hypertension. Signs of potassium deficiency can include weakness and lethargy, rapid pulse, nausea, diarrhea, and tingling sensations.

If the body absorbs enough potassium but the element is not distributed properly, various disorders may develop. Thus an abnormally low content of potassium in the blood may result in an intermittent temporary paralysis of the muscles, known as

familial periodic

paralysis

.

Potassium deficiency can be treated by administration of potassium supplements. There is a large variety of these preparations. Some are liquids, some are powders to be dissolved in liquids, and some are slow-release tablets that dissolve in the intestine. All can cause gastrointestinal irritation. For many persons on diuretic therapy for hypertension, potassium deficiency can be avoided by increasing their consumption of potassium-containing foods, such as bananas, dates, prunes, and raisins, and potassium supplements are not needed. Potassium supplements are never given to patients receiving

potassium-sparing

diuretics

such as

amiloride

,

spironolactone

, or

triamterene

. If the difficulty lies in the body's use of potassium, treatment is concerned with the primary cause of the deficiency.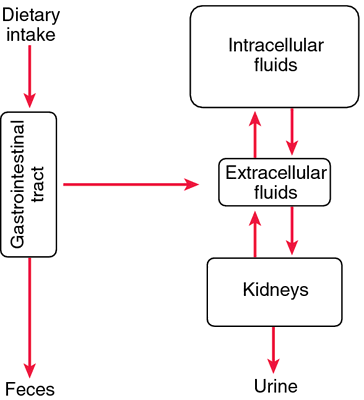 potassium acetate an electrolyte replenisher and systemic and urinary alkalizer.
potassium bicarbonate an electrolyte replenisher, antacid, and urinary alkalizer.
potassium bitartrate
a compound administered rectally as a suppository with
sodium bicarbonate
to produce carbon dioxide, which promotes defecation by distending the rectal ampulla; administered for relief of constipation, and evacuation of the colon before surgical or diagnostic procedures or childbirth.
potassium chloride a compound used orally or intravenously as an electrolyte replenisher.
dibasic potassium phosphate
the dipotassium salt, K
2
HPO
4
; used alone or in combination with other phosphate compounds as an
electrolyte
replenisher.
potassium gluconate an electrolyte replenisher used in the prophylaxis and treatment of hypokalemia.
potassium guaiacolsulfonate an expectorant.
potassium iodide an expectorant, antithyroid agent, and antifungal.
monobasic potassium phosphate
the monopotassium salt, KH
2
PO
4
; used as a buffering agent in pharmaceutical preparations and, alone or in combination with other phosphate compounds, as an
electrolyte
replenisher and urinary acidifier and for prevention of
kidney stones
.
potassium permanganate a topical antiinfective and oxidizing agent, and an antidote for many poisons.
potassium sodium tartrate a compound used as a saline cathartic.
Miller-Keane Encyclopedia and Dictionary of Medicine, Nursing, and Allied Health, Seventh Edition. © 2003 by Saunders, an imprint of Elsevier, Inc. All rights reserved.
potassium iodide
lostat, Pima, SSKI, Thyrosafe, ThyroShield
Pharmacologic class: Iodine, iodide
Therapeutic class: Antithyroid agent, expectorant
Pregnancy risk category D
Action
Rapidly inhibits thyroid hormone release, reduces thyroid vascularity, and decreases thyroid uptake of radioactive iodine after radiation emergencies or administration of radioactive iodine isotopes. As expectorant, thought to increase respiratory tract secretions, thereby decreasing mucus viscosity.
Availability
Saturated solution (SSKI): 1 g potassium iodide/ml in 30- and 240-ml bottles
Solution (strong iodine solution, Lugol's solution): 5% iodine and 10% potassium iodide in 120-ml bottle
Syrup: 325 mg potassium iodide/5 ml
Tablets: 130 mg (available only through state and federal agencies)
Indications and dosages
➣ Preparation for thyroidectomy
Adults and children: One to five drops SSKI P.O. t.i.d. or three to six drops strong iodine solution P.O. t.i.d. for 10 days before surgery
➣ Thyrotoxic crisis
Adults and children: 500 mg P.O. (approximately 10 drops SSKI) q 4 hours or 1 ml P.O. (strong iodine solution) t.i.d., at least 1 hour after initial propylthiouracil or methimazole dose
➣ Radiation protectant in emergencies
Adults older than age 40 with predicted thyroid exposure of 500 centigrays (cGy), adults ages 18 to 40 with predicted exposure of 10 cGy, pregnant or breastfeeding women with predicted exposure of 5 cGy, and adolescents weighing 70 kg (154 lb) or more with predicted exposure of 5 cGy: 130 mg P.O. (tablet) Children ages 3 to 18 (except adolescents weighing 70 kg [154 lb] or more) with predicted thyroid exposure of 5 cGy: 65 mg P.O. (tablet) Children ages 1 month to 3 years with predicted thyroid exposure of 5 cGy: 32 mg P.O. (tablet)
Infants from birth to age 1 month with predicted thyroid exposure of 5 cGy: 16 mg P.O. (tablet)
➣ Expectorant
Adults: 300 to 650 mg P.O. (SSKI) three or four times daily, given with at least 6 oz of fluid
Children: 60 to 250 mg P.O. (SSKI) q.i.d., given with at least 6 oz of fluid
Off-label uses
• Lymphocutaneous sporotrichosis
Contraindications
• Hypersensitivity to iodine, shellfish, or bisulfites (with some products)
• Hypothyroidism
• Renal impairment
• Acute bronchitis
• Addison's disease
• Acute dehydration
• Heat cramps
• Hyperkalemia
• Tuberculosis
• Iodism
• Concurrent use of potassium-containing drugs, potassium-sparing diuretics, or salt substitutes containing potassium
Precautions
Use cautiously in:
• cystic fibrosis, adolescent acne, hypocomplementemic vasculitis, goiter, autoimmune thyroid disease
• pregnant or breastfeeding patients
• children.
Administration
• Dilute saturated solution with at least 6 oz of water.
☞ Don't give concurrently with other potassium-containing drugs or potassium-sparing diuretics, because of increased risk of hyperkalemia, arrhythmias, and cardiac arrest.
• Know that U.S. government stockpiles potassium iodide 130-mg tablets for emergency use.
• When giving to very young children or patients who can't swallow tablets, crush tablet, dissolve in 20 ml of water, and add 20 ml of selected beverage (such as orange juice).
• Be aware that potassium iodide use as expectorant has been largely replaced by safer and more effective drugs.

Adverse reactions
CNS: confusion; unusual fatigue; paresthesia, pain, or weakness in hands or feet
Metabolic: thyroid hyperplasia, goiter (with prolonged use), thyroid adenoma, severe hypothyroidism, hyperkalemia, iodism (with large doses or prolonged use)
Musculoskeletal: weakness and heaviness of legs
Other: tooth discoloration (with strong iodide solution), hypersensitivity reactions including angioedema, fever, cutaneous and mucosal hemorrhage, serum sickness-like reaction
Interactions
Drug-drug. Lithium, other thyroid drugs: additive hypothyroidism Potassium-sparing diuretics, other potassium preparations: increased risk of hyperkalemia, arrhythmias, and cardiac arrest
Drug-diagnostic tests. Radionuclide thyroid imaging: altered test results Thyroid uptake of131I, 123I, sodium pertechnetate Tc 99m: decreased uptake
Drug-food. Salt substitutes containing potassium: increased risk of hyperkalemia
Patient monitoring
☞ In long-term use, check for signs and symptoms of iodism (metallic taste, sore teeth and gums, sore throat, burning of mouth and throat, coldlike symptoms, severe headache, productive cough, GI irritation, diarrhea, angioedema, rash, fever, and cutaneous or mucosal hemorrhage). Discontinue drug immediately if these occur.
• Monitor potassium level; watch for signs and symptoms of potassium toxicity.
• Assess ECG, renal function, fluid intake and output, and creatinine and blood urea nitrogen levels.
• Monitor thyroid function tests. Watch for evidence of hypothyroidism or hyperthyroidism.
Patient teaching
• Tell patient to dilute in at least 6 oz of water or juice and to take with meals.
• Advise patient to sip strong iodine solution through a straw to help prevent tooth discoloration.
☞ Teach patient to recognize and immediately report signs and symptoms of iodism and potassium toxicity.
• Instruct patient to minimize GI upset by eating small, frequent servings of food and drinking plenty of fluids.
• Inform patient that many salt substitutes are high in potassium. Advise him not to use these without prescriber's approval.
• Caution patient not to take drug if she is pregnant or breastfeeding (except in emergency use).
• As appropriate, review all other significant and life-threatening adverse reactions and interactions, especially those related to the drugs, tests, and foods mentioned above.
McGraw-Hill Nurse's Drug Handbook, 7th Ed. Copyright © 2013 by The McGraw-Hill Companies, Inc. All rights reserved
potassium iodide
A drug used in the pre-operative management of hyperthyroidism, in the treatment of the fungal infection cutaneous SPOROTRICHOSIS, and to treat iodine deficiency. The drug is on the WHO official list.

Collins Dictionary of Medicine © Robert M. Youngson 2004, 2005