posterior chamber
Also found in:
Dictionary
,
Thesaurus
,
Legal
,
Encyclopedia
,
Wikipedia
.
chamber
[

chām´ber

]

an enclosed space.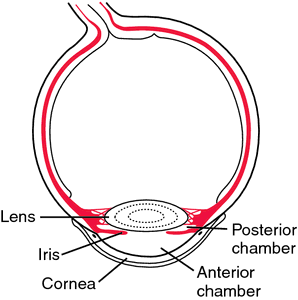 anterior chamber the part of the aqueous humor-containing space of the eyeball between the cornea and iris.
counting chamber
the part of a
hemacytometer
consisting of a microscopic slide with a depression whose base is marked in grids, and into which a measured volume of a sample of blood or bacterial culture is placed and covered with a cover glass. The number of cells and formed blood elements in the squares is counted under a microscope and used as a representative sample for calculating the unit volume.
drip chamber
the expanded portion of intravenous tubing into which fluid falls, where the rate of flow can be monitored if necessary. See also
intravenous infusion
.
hyperbaric chamber
an enclosed space in which gas (oxygen) can be raised to greater than atmospheric pressure; see also
hyperbaric oxygenation
.
ionization chamber an enclosure containing two or more electrodes between which an electric current may be passed when the enclosed gas is ionized by radiation; used for determining the intensity of x-rays and other rays.
posterior chamber that part of the aqueous humor–containing space of the eyeball between the iris and the lens.
vitreous chamber the vitreous humor–containing space in the eyeball, bounded anteriorly by the lens and ciliary body and posteriorly by the posterior wall of the eyeball.
Miller-Keane Encyclopedia and Dictionary of Medicine, Nursing, and Allied Health, Seventh Edition. © 2003 by Saunders, an imprint of Elsevier, Inc. All rights reserved.
posterior chamber
n.
The space between the iris, the lens, and the ciliary body of the eye, filled with the aqueous humor and communicating through the pupil with the anterior chamber.
The American Heritage® Medical Dictionary Copyright © 2007, 2004 by Houghton Mifflin Company. Published by Houghton Mifflin Company. All rights reserved.
posterior chamber
In the eye, the space behind the iris and in front of the vitreous body. It is occupied by the lens, its zonules, and the aqueous humor.

See: anterior chamber; eye for illus

Medical Dictionary, © 2009 Farlex and Partners