pinocytosis
Also found in:
Dictionary
,
Thesaurus
,
Encyclopedia
,
Wikipedia
.
pinocytosis
[

pin″o-si-to´sis

]

a mechanism by which cells ingest extracellular fluid and its contents; it involves the formation of invaginations by the cell membrane, which close and break off to form fluid-filled vacuoles in the cytoplasm (see accompanying illustration). adj.,

adj

pinocytot´ic.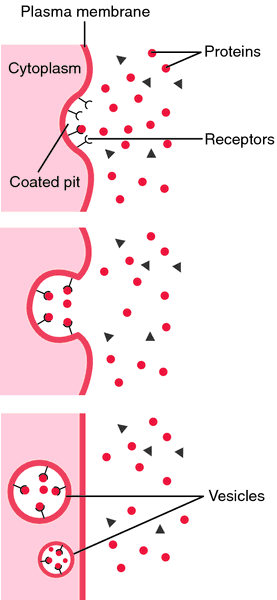 Miller-Keane Encyclopedia and Dictionary of Medicine, Nursing, and Allied Health, Seventh Edition. © 2003 by Saunders, an imprint of Elsevier, Inc. All rights reserved.
pin·o·cy·to·sis
(

pin'ō-sī-tō'sis, pī'nō-

),

The cellular process of actively engulfing liquid, a phenomenon in which minute incuppings or invaginations are formed in the surface of the cell membrane and close to form fluid-filled vesicles; it resembles phagocytosis.

[pinocyte + G. -osis, condition]

Farlex Partner Medical Dictionary © Farlex 2012
pinocytosis
(pĭn′ə-sĭ-tō′sĭs, -sī-, pī′nə-)
n.
Introduction of fluids into a cell by invagination of the cell membrane, followed by formation of vesicles within the cells.
---
pin′o·cy·tot′ic
(-tŏt′ĭk)
adj.
The American Heritage® Medical Dictionary Copyright © 2007, 2004 by Houghton Mifflin Company. Published by Houghton Mifflin Company. All rights reserved.
pin·o·cy·to·sis
(

pin'ō-sī-tō'sis

)

The cellular process of actively engulfing liquid, a phenomenon in which minute incuppings or invaginations are formed in the surface of the cell membrane and close to form fluid-filled vesicles; it resembles phagocytosis.

[pinocyte + G. -osis, condition]

Medical Dictionary for the Health Professions and Nursing © Farlex 2012
pinocytosis
(pin″ŏ-sĭ-tō′sĭs, pīn″, -sī″) [ pinocyte + -osis]

The process by which cells absorb or ingest nutrients and fluid. An invaginating portion of the cell membrane encircles the nutrient, enclosing it in a membrane-bound sac. The contents of the sac are then digested.

See: illustrationillustration

Medical Dictionary, © 2009 Farlex and Partners
pinocytosis
The process in which cells engulf fluid to form tiny clear spherical containers (vacuoles) which then move through the cell cytoplasm, sometimes acting as scavenging vehicles to be discarded through another part of the cell membrane. Extracellular fluid with dissolved molecules may be moved intracellularly by pinocytosis.

Collins Dictionary of Medicine © Robert M. Youngson 2004, 2005
pinocytosis
or
micropinocytosis
('cell-drinking') the active engulfing of very small particles or liquids by cells; a form of ENDOCYTOSIS. The particles become surrounded by the cell membrane on all sides, which eventually forms a channel from which vesicles are pinched off and move within the PROTOPLASM before their contents can be transferred into the cell proper.

Collins Dictionary of Biology, 3rd ed. © W. G. Hale, V. A. Saunders, J. P. Margham 2005
pin·o·cy·to·sis
(

pin'ō-sī-tō'sis

)

The cellular process of actively engulfing liquid, a phenomenon in which minute incuppings or invaginations are formed in the surface of the cell membrane and close to form fluid-filled vesicles.

[pinocyte + G. -osis, condition]

Medical Dictionary for the Dental Professions © Farlex 2012