phosphodiester bond
Also found in:
Dictionary
,
Thesaurus
,
Legal
,
Financial
,
Encyclopedia
,
Wikipedia
.
phosphodiester bond
(fŏs′fō-dī-ĕs′tər)
n.
A covalent chemical bond that links two carbon atoms through a phosphate group, especially the bonds that link the pentose sugars of adjacent nucleotides in polynucleotide chains of RNA and DNA.
phosphodiester bond
The chemical linkages that join up the sugar, base and phosphate NUCLEOTIDES of DNA and RNA into polynucleotide strands. The subunits of the strand are triphosphate nucleosides, but when a number of these join up (polymerize) under the action of the enzyme DNA polymerase, two of the phosphates are cleaved off leaving only one phosphorous atom between each pair of adjacent sugar molecules. The two ester (diester) bonds in each linkage are Carbon-Oxygen-Phosphorus from the 5'-carbon on one sugar and Carbon-Oxygen-Phosphorus from the 3'-carbon on the next. The hydroxyl (-OH) on the 3'-carbon is also lost.
phosphodiester bond
a bond between a sugar group and a phosphate group. In NUCLEIC ACIDS the NUCLEOTIDES are covalently linked by phosphodiester bonds between the phosphate and the 3′ and 5′ hydroxyls of adjacent sugars resulting in an alternating sugar-phosphate backbone: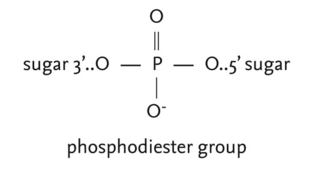 bond
the linkage between atoms or radicals of a chemical compound, or the symbol representing this linkage and indicating the number and attachment of the valencies of an atom in constitutional formulas, e.g. H−O−H, H−C= C−H and can be represented by a pair of dots between atoms, e.g. H:O:H, H:C:::C:H.
---
coordinate covalent bond
a covalent bond in which one of the bonded atoms furnishes both of the shared electrons.
covalent bond
a chemical bond between two atoms or radicals formed by the sharing of a pair (single bond), two pairs (double bond) or three pairs of electrons (triple bond).
disulfide bond
a strong covalent bond, −S−S−, important in linking polypeptide chains in proteins, the linkage arising as a result of the oxidation of the sulfhydryl (SH) groups of two molecules of cysteine.
high-energy phosphate bond
an energy-rich phosphate linkage present in adenosine triphosphate (ATP), phosphocreatine and certain other biological molecules. On hydrolysis at pH 7 it yields about 8000 calories per mole, in contrast to the 3000 calories yielded by phosphate esters. The bond stores energy that is used to drive biochemical processes, such as the synthesis of macromolecules, contraction of muscles, and the production of the electrical potentials for nerve conduction.
high-energy sulfur bond
an energy-rich sulfur linkage, the most important of which occurs in the acetyl-CoA molecule, the main source of energy in fatty acid biosynthesis.
human-animal bond
the psychological interdependence between humans and companion animals.
hydrogen bond
a weak, primarily electrostatic, bond between a hydrogen atom bound to a highly electronegative element (such as oxygen or nitrogen) in a given molecule, or part of a molecule, and a second highly electronegative atom in another molecule or in a different part of the same molecule.
ionic bond
a chemical bond in which electrons are transferred from one atom to another so that one bears a positive and the other a negative charge, the attraction between these opposite charges forming the bond.
peptide bond
the −CO−NH− linkage formed between the carboxyl group of one amino acid and the amino group of another; it is an amide linkage joining amino acids to form peptides.
phosphoanhydride bond
a high energy bond present in ATP.
phosphodiester bond
links between nucleotides in nucleic acids.