CAD
(redirected from parametric modeling)
Also found in:
Dictionary
,
Thesaurus
,
Financial
,
Encyclopedia
.
coronary
[

kor´ah-nar-e

]

encircling in the manner of a crown; said of anatomical structures such as vessels, ligaments, or nerves.

coronary arteries

two large arteries that branch from the ascending aorta and supply all of the heart muscle with blood (see also table of

arteries

).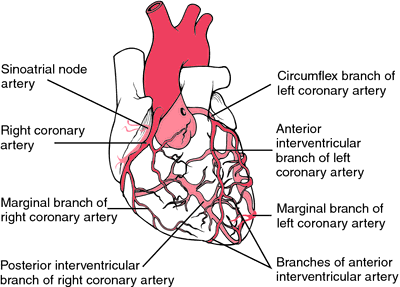 coronary artery disease (CAD) atherosclerosis of the coronary arteries, which may cause angina pectoris, myocardial infarction, and sudden death. Both genetically determined and avoidable risk factors contribute to the disease; they include hypercholesterolemia, hypertension, smoking, diabetes mellitus, and low levels of high density lipoproteins (HDL).
coronary occlusion
the occlusion, or closing off, of a coronary artery, usually caused by a narrowing of the lumen of the blood vessels by the plaques of
atherosclerosis
. Sometimes a plaque may rupture and release vasoactive or thrombogenic substances that lead to clot formation. If there is adequate collateral circulation to the heart muscle at the time of the occlusion, there may be little or no damage to the myocardial cells. When occlusion is complete, however, with no blood being supplied to an area of the myocardium,
myocardial infarction
results.
Miller-Keane Encyclopedia and Dictionary of Medicine, Nursing, and Allied Health, Seventh Edition. © 2003 by Saunders, an imprint of Elsevier, Inc. All rights reserved.
CAD
Farlex Partner Medical Dictionary © Farlex 2012
CAD
abbr.
1. computer-aided design
2. coronary artery disease
The American Heritage® Medical Dictionary Copyright © 2007, 2004 by Houghton Mifflin Company. Published by Houghton Mifflin Company. All rights reserved.
CAD
Abbreviation for
cadaver
Canadian Association for the Deaf
carotid artery disease
caspase activated deoxyribonuclease
chronic actinic dermatitis
chronic airways disease
coenzyme A dehydrogenase
cold agglutinin disease, see there
collision-activated dissociation (Spectrometry)
compensatory articulation disorder
complete axillary dissection
computer-assisted design
computer-assisted diagnosis
coronary artery diameter
coronary artery disease, see there
Council on Anxiety Disorders
cyclophosphamide, adriamycin, dacarbazine
cystic adventitial disease
cytarabine, daunorubicin

A gene on chromosome 2p22-p21 that encodes a trifuctional enzyme linked to the activities of the first 3 enzymes—carbamoylphosphate synthetase, aspartate transcarbamoylase and dihydroorotase—in the 6-step pathway of pyrimidine biosynthesis. It is regulated by the mitogen-activated protein kinase (MAPK) cascade, indicating a link between MAPK cascade activation and synthesis of pyrimidine nucleotides.

Segen's Medical Dictionary. © 2012 Farlex, Inc. All rights reserved.
CAD
2. Computer-assisted design.
McGraw-Hill Concise Dictionary of Modern Medicine. © 2002 by The McGraw-Hill Companies, Inc.
CAD
Abbreviation for coronary artery disease.
Medical Dictionary for the Health Professions and Nursing © Farlex 2012
CAD
Abbreviation for coronary artery disease.
Medical Dictionary for the Dental Professions © Farlex 2012