overriding aorta
Also found in:
Dictionary
,
Thesaurus
,
Legal
,
Encyclopedia
,
Wikipedia
.
aorta
[

a-or´tah

] (pl. aor´tae, aortas) (L.)

the great artery arising from the left ventricle, being the main trunk from which the systemic arterial system proceeds. It has four divisions: the ascending aorta, the aortic arch, the thoracic aorta, and the abdominal aorta. See Appendix of Arteries and see

circulatory system

.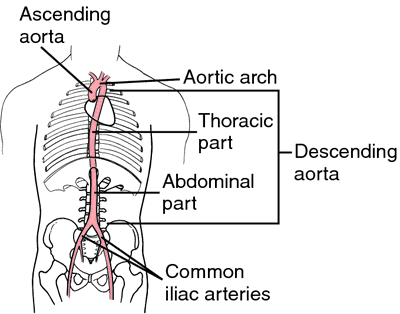 overriding aorta
a congenital anomaly occurring in
tetralogy of Fallot
, in which the aorta is displaced to the right so that it appears to arise from both ventricles and straddles the ventricular septal defect.
o·ver·rid·ing a·or·ta
a congenitally malpositioned aorta the origin of which straddles the ventricular septum and so receives ejected blood from the right ventricle as well as from the left; it is found especially in tetralogy of Fallot.