onychogryposis
Also found in:
Dictionary
,
Wikipedia
.
onychogryphosis
[

on″ĭ-ko-grĭ-fo´sis

]

abnormal hypertrophy and curving of the nails, giving them a clawlike appearance.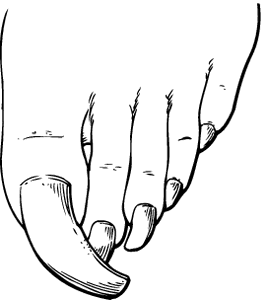 Miller-Keane Encyclopedia and Dictionary of Medicine, Nursing, and Allied Health, Seventh Edition. © 2003 by Saunders, an imprint of Elsevier, Inc. All rights reserved.
on·y·cho·gry·po·sis
(

on'i-kō-gri-pō'sis

),

Enlargement with increased thickening and curvature of the fingernails or toenails.

[onycho- + G. grypōsis, a curvature]

Farlex Partner Medical Dictionary © Farlex 2012
onychogryposis
Dermatology Thickened and curved finger and/or toenails

McGraw-Hill Concise Dictionary of Modern Medicine. © 2002 by The McGraw-Hill Companies, Inc.
on·y·cho·gry·po·sis
(

on'i-kō-gri-pō'sis

)

Enlargement with increased thickening and curvature of the fingernails or toenails.

[onycho- + G. grypōsis, a curvature]

Medical Dictionary for the Health Professions and Nursing © Farlex 2012