toe
(redirected from on toes)
Also found in:
Dictionary
,
Thesaurus
,
Idioms
,
Encyclopedia
.
toe
[

to

]

a digit of the foot.

claw toe a toe deformity seen in many patients with rheumatoid arthritis, consisting of dorsal subluxation of toes 2 through 5; the metatarsal heads bear weight and become painful during walking so that the patient has a shuffling gait.

hammer toe

deformity of a toe in which the proximal phalanx is extended and the second and distal phalanges are flexed, causing a clawlike appearance; it most often affects the second toe.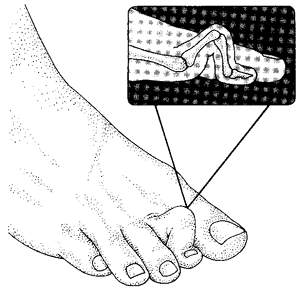 pigeon toe
a permanent toeing-in position of the feet; severe cases are considered a form of
clubfoot (talipes)
.
webbed t's
syndactyly
of the toes abnormally joined by strands of tissue at their base.
toe
(

tō

), [TA]

One of the digits of the feet.

[A.S. ta]
toe
(tō)
n.
a. One of the digits of a vertebrate foot.
b. The forepart of a foot or hoof.
c. The terminal segment of an invertebrate's limb.
v.intr.
To stand, walk, move, or be formed with the toes pointed in a specified direction:
He toes out.
TOE
Abbreviation for:
tender on examination
transoesophageal echocardiography
toe
See Claw toe, Curly toe, Hammer toe, Mallet toe, Overlapping toe, Pheasant hunter's toe, Pigeon toe, Sausage toe, Tennis toe, Turf toe, Underlapping toe.
toe
(

tō

) [TA]

One of the digits of the feet.

[A.S. ta]
toe
(

tō

) [TA]

1. Rounded third of the working end of a curette.

2. One of the digits of the feet.

[A.S. ta]
Patient discussion about toe
Q. I have a pain in my big toe, what is it? I keep on having shooting pains from my big toe, especially at night. What could it be from?
A. Go see your Doctor as he can determine the joint's condition with an X-ray. Arthritis (such as arthritis caused by gout) is among the most common reasons for toe pain.
Q. how to treat nurve pain in my toes the top of my toes fell like they are aburning
A. Neuropathy can be treated by nutrition and several form of alternative medicine, like acupuncture.

check out this article on Peripheral Neuropathy from the Gale Encyclopedia of Alternative Medicine to learn more:
http://www.altmd.com/Articles/Peripheral-Neuropathy--Encyclopedia-of-Alternative
Q. my guy friend has a very sick looking toe nail, what should he do? its really thick and has ridges, its also dark yellow and it looks to me has thick toe jam too... ugh, he needs your help please!
A. It sounds like Toenail fungus. Symptoms of toenail fungus, which can be caused by several types of fungi, include swelling, yellowing, thickening or crumbling of the nail, streaks or spots down the side of the nail, and even complete loss of the nail. Toenail color can vary from brown or yellow to white with this condition. I suggest your friend goes to see a foot doctor. The doctor might remove as much of the nail as possible by trimming, filing or dissolving it. Medicated nail polish might be prescribed for a localized infection, but a serious infection will likely be treated with a prescription oral antifungal medication. Only in severe cases will surgical removal of the nail be recommended.
More discussions about toe