ointment base
Also found in:
Dictionary
,
Thesaurus
,
Legal
,
Financial
,
Encyclopedia
.
base
[

bās

]

1.

the lowest part or foundation of anything. See also

basis

.

2. the main ingredient of a compound.

3.

the nonacid part of a salt; a substance that combines with acids to form salts. In the chemical processes of the body, bases are essential to the maintenance of a normal

acid-base balance

. Excessive concentration of bases in the body fluids leads to

alkalosis

.

4. a unit of a removable dental prosthesis.

5. in genetics, a nucleotide, particularly one in a nucleic acid sequence.

intermediary base the layer of cement between a dental restoration and the tooth structure, acting as an insulator and protective barrier.

nitrogenous base an aromatic, nitrogen-containing molecule that serves as a proton acceptor, e.g., purine or pyrimidine.

ointment base a vehicle for the medicinal substances carried in an ointment.

purine b's

a group of compounds of which purine is the base, including uric acid, adenine, xanthine, and theobromine.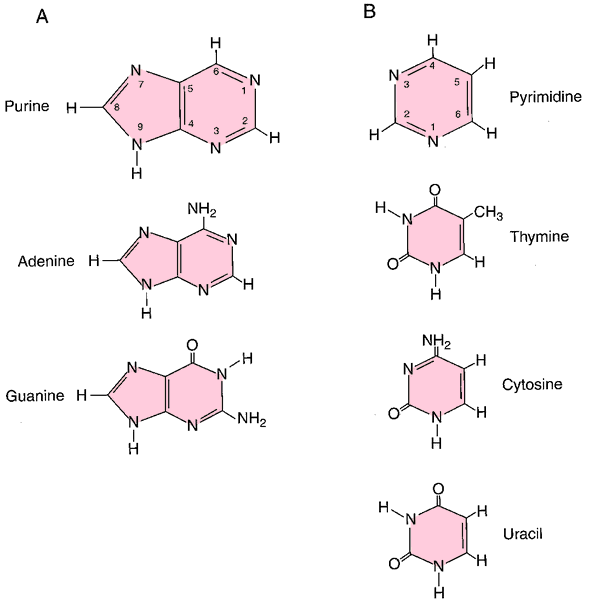 pyrimidine b's a group of chemical compounds of which pyrimidine is the base, including uracil, thymine, and cytosine, which are common constituents of nucleic acids.
Miller-Keane Encyclopedia and Dictionary of Medicine, Nursing, and Allied Health, Seventh Edition. © 2003 by Saunders, an imprint of Elsevier, Inc. All rights reserved.
oint·ment base
the vehicle into which active ingredients may be incorporated. Petrolatum (which may be stiffened with wax) is the most widely used greasy ointment base and is suitable for the incorporation of oleaginous materials. Lanolin-containing bases will absorb water (and dissolved materials) and form water-in-oil type emulsions. Water soluble (washable) bases are often derived from polymers of ethylene glycol (PEGS); these will absorb water and ingredients dissolved in the water. Ointment bases are usually pharmacologically inert but may entrap water and serve to keep the skin from dying or to provide an emollient protective film.
Farlex Partner Medical Dictionary © Farlex 2012
oint·ment base
(

oyntmĕnt bās

)

Vehicle into which active ingredients may be incorporated. Petrolatum (which may be stiffened with wax) is the most widely used greasy ointment base and is suitable for the incorporation of oleaginous materials. Lanolin-containing bases absorb water (and dissolved materials) and form water-in-oil type emulsions. Water soluble (washable) bases, often derived from polymers of ethylene glycol (PEGs); absorb water and ingredients dissolved in it.

Medical Dictionary for the Health Professions and Nursing © Farlex 2012