occluding thrombus
Also found in:
Dictionary
,
Thesaurus
,
Encyclopedia
.
thrombus
[

throm´bus

]

a stationary blood

clot

along the wall of a blood vessel, frequently causing vascular obstruction. Some authorities differentiate thrombus formation from simple coagulation or clot formation. See also

embolus

.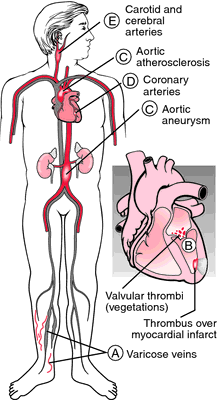 mural thrombus
one attached to the wall of the heart adjacent to an area of diseased endocardium, or to the aortic wall overlying an intimal lesion. See also
parietal thrombus
.
occluding thrombus one that occupies the entire lumen of a vessel and obstructs blood flow.
parietal thrombus
one attached to a vessel or heart wall; see also
mural thrombus
.
Miller-Keane Encyclopedia and Dictionary of Medicine, Nursing, and Allied Health, Seventh Edition. © 2003 by Saunders, an imprint of Elsevier, Inc. All rights reserved.
occluding thrombus
A thrombus that completely closes the vessel.
Medical Dictionary, © 2009 Farlex and Partners