nitrogenous base
Also found in:
Dictionary
,
Thesaurus
,
Legal
,
Financial
,
Encyclopedia
,
Wikipedia
.
base
[

bās

]

1.

the lowest part or foundation of anything. See also

basis

.

2. the main ingredient of a compound.

3.

the nonacid part of a salt; a substance that combines with acids to form salts. In the chemical processes of the body, bases are essential to the maintenance of a normal

acid-base balance

. Excessive concentration of bases in the body fluids leads to

alkalosis

.

4. a unit of a removable dental prosthesis.

5. in genetics, a nucleotide, particularly one in a nucleic acid sequence.

intermediary base the layer of cement between a dental restoration and the tooth structure, acting as an insulator and protective barrier.

nitrogenous base an aromatic, nitrogen-containing molecule that serves as a proton acceptor, e.g., purine or pyrimidine.

ointment base a vehicle for the medicinal substances carried in an ointment.

purine b's

a group of compounds of which purine is the base, including uric acid, adenine, xanthine, and theobromine.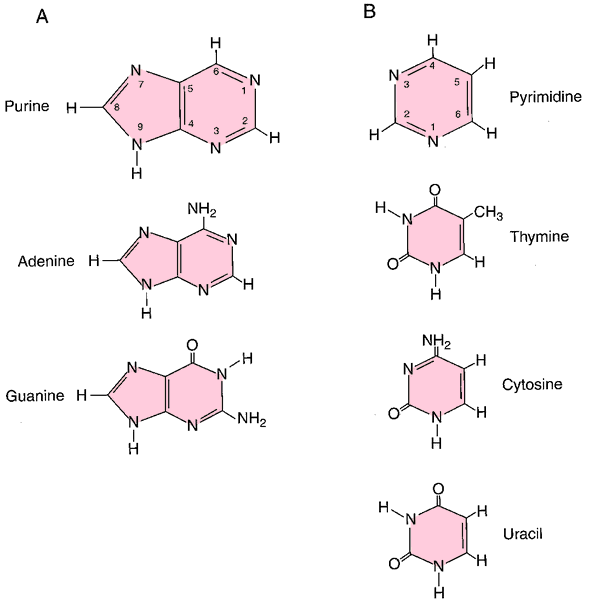 pyrimidine b's a group of chemical compounds of which pyrimidine is the base, including uracil, thymine, and cytosine, which are common constituents of nucleic acids.
nitrogenous base
A molecule containing nitrogen with the chemical properties of a base.

Nitrogenous bases—DNA
• Purine bases—Adenine (A), guanine (G).
• Pyrimidine bases—Cytosine (C), thymine (T).

Nitrogenous bases—RNA 
• Purine bases—Adenine (A), guanine (G).
• Pyrimidine bases—Cytosine (C), uracil (U).