neuromere
Also found in:
Dictionary
,
Encyclopedia
,
Wikipedia
.
neuromere
[

noor´o-mēr

]

1. any of a series of transitory segmental elevations in the wall of the neural tube in the developing embryo; also, such elevations in the wall of the mature rhombencephalon.

2.

a part of the spinal cord to which a pair of dorsal roots and a pair of ventral roots are attached.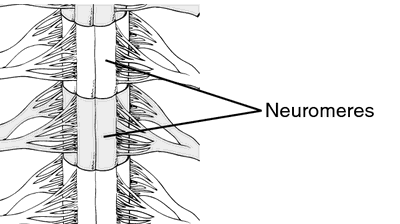 Miller-Keane Encyclopedia and Dictionary of Medicine, Nursing, and Allied Health, Seventh Edition. © 2003 by Saunders, an imprint of Elsevier, Inc. All rights reserved.
neu·ro·mere
(

nū'rō-mēr

),

Elevations in the wall of the developing neural tube that divide the developing spinal cord (neuromere) into portions to which dorsal and ventral roots are attached, or that divide the developing rhombencephalon (rhombomeres) into portions associated primarily with motor portions of the cranial nerves of the medulla and pons.

[neuro- + G. meros, part]

Farlex Partner Medical Dictionary © Farlex 2012
neu·ro·mere
(

nūr'ō-mēr

)

Elevations in the wall of the developing neural tube, which divide the developing spinal cord into portions to which dorsal and ventral roots are attached.

[neuro- + G. meros, part]

Medical Dictionary for the Health Professions and Nursing © Farlex 2012