extension
(redirected from nail extension)
Also found in:
Dictionary
,
Thesaurus
,
Legal
,
Financial
,
Encyclopedia
.
extension
[

ek-sten´shun

]

1. the movement by which the two ends of any jointed part are drawn away from each other.

2. a movement bringing the members of a limb into or toward a straight condition.

Buck's extension

a temporary type of lightweight traction applied to the distal end of a fractured lower limb; the foot of the bed is raised so that the body makes counterextension; often used to reduce muscle spasm.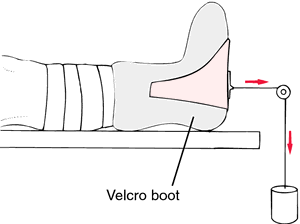 nail extension extension exerted on the distal fragment of a fractured bone by means of a nail or pin driven into the fragment.
Miller-Keane Encyclopedia and Dictionary of Medicine, Nursing, and Allied Health, Seventh Edition. © 2003 by Saunders, an imprint of Elsevier, Inc. All rights reserved.
ex·ten·sion
(

eks-ten'shŭn

), [TA]

1. The act of bringing the distal portion of a joint in continuity (although only parallel) with the long axis of the proximal portion.

2. A pulling or dragging force exerted on a limb in a distal direction.

3. The movement produced by contraction of one or more extensor muscles; it generally results in the straightening of a limb; axial traction that generally lengthens a limb or straightens the trunk; the opposite or antagonistic movement of flexion.

[L. extensus, past part. of extendere, to stretch out, extend]

Farlex Partner Medical Dictionary © Farlex 2012
extension
(ĭk-stĕn′shən)
n.
1.
a. The act of straightening or extending a limb.
b. The position assumed by an extended limb.
2. Medicine The application of traction to a fractured or dislocated limb to restore the normal position.
---
ex·ten′sion·al adj.
The American Heritage® Medical Dictionary Copyright © 2007, 2004 by Houghton Mifflin Company. Published by Houghton Mifflin Company. All rights reserved.
extension
An adult sex toy placed around an erect penis which extends its length.

Segen's Medical Dictionary. © 2012 Farlex, Inc. All rights reserved.
extension
The making larger of a thing Imaging The broadening of a lesion–eg, a cancer or focus of infection as seen on an imaging technique Orthopedics A ↑ in the angle between parts of a joint; a straightening of a flexed limb Terminal care See Extension of life.

McGraw-Hill Concise Dictionary of Modern Medicine. © 2002 by The McGraw-Hill Companies, Inc.
ex·ten·sion
(

eks-ten'shŭn

) [TA]

1. The act of bringing the distal portion of a joint in continuity with the long axis of the proximal portion.

2. A pulling or dragging force exerted on a limb in a distal direction.

3. To straighten a joint (i.e., the elbow is in extension when fully straightened).

[L. extensus, past part. of extendere, to stretch out, extend]

Medical Dictionary for the Health Professions and Nursing © Farlex 2012
extension
Straightening at a joint. The opposite of flexion.

Collins Dictionary of Medicine © Robert M. Youngson 2004, 2005
ex·ten·sion
(

eks-ten'shŭn

) [TA]

1. The act of bringing the distal portion of a joint in continuity with the long axis of the proximal portion.

2. A pulling or dragging force exerted on a limb in a distal direction.

3. To straighten a joint.

[L. extensus, past part. of extendere, to stretch out, extend]

Medical Dictionary for the Dental Professions © Farlex 2012